Thu, 12 November 2020 at 4:41 pm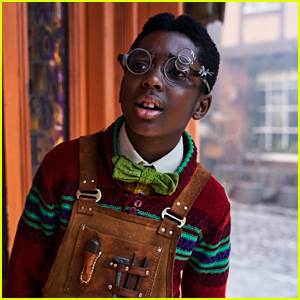 Kieron Dyer is making his acting debut in the upcoming Netflix holiday film Jingle Jangle: A Christmas Journey!
The young actor will play Edison Latimer in the movie, which premieres TOMORROW (November 13).
Edison is Jeronicus' (Forest Whitaker) devoted, but accident-prone apprentice.
Here's a synopsis: Set in the gloriously vibrant town of Cobbleton, the film follows legendary toymaker Jeronicus Jangle (Whitaker) whose fanciful inventions burst with whimsy and wonder. But when his trusted apprentice (Keegan-Michael Key) steals his most prized creation, it's up to his equally bright and inventive granddaughter (Madalen Mills) — and a long-forgotten invention — to heal old wounds and reawaken the magic within.
VIDEO: Watch the Jingle Jangle: A Christmas Journey trailer here!
JJJ was able to get a little familiar with the newcomer actor with our 10 Fun Facts feature. Check it out below:
1. Jingle Jangle: A Christmas Journey is the first audition I ever attended for anything, and I was awarded the part on my birthday!
2. I can do the Rubix Cube in under three minutes from any starting point. I learned the algorithm online.
3. I am a yellow belt in Shotokan Karate.
4. I can say, define and spell the longest word in the world.
5. I taught myself to juggle with three balls.
Click inside to see more…
6. I can hula hoop for two minutes straight.
7. I can do a cool pen magic trick.
8. I am a Marvel Avengers nerd. I love doing Marvel quizzes, word searches, have every Marvel Avengers film poster on my bedroom wall and own all of the films on DVD.
9. At age 9 I wrote, directed and performed a play at school.
10. I can do a great impersonation of the 'Carlton dance' from the Fresh Prince of Bel-Air.
Like Just Jared Jr. on FB