Tue, 17 November 2020 at 1:33 pm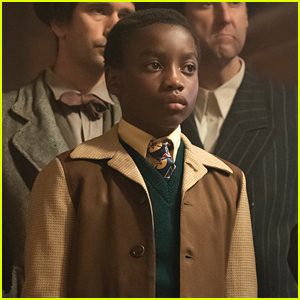 Rodney L Jones III just had a turning point in the current season of Fargo!
The young actor plays Chris Rock's traded son, Satchel Cannon, on the fourth season of the FX series, and this month he has major season arc.
During the most recent episode, "East/West," it flashed back to "chronicle Rabbi and Satchel's attempts to find safe haven away from the Kansas City gang war that's left them both exiled."
Rodney has also been seen in episodes of Chicago Fire and Lovecraft Country. Next, he'll be starring as Billy in Jordan Peele's upcoming horror film Candyman, which will be released in 2021.
JJJ got to know Rodney with our popular 10 Fun Facts feature. Find out more below!
Be sure to catch Rodney L Jones III on season four of Fargo, airing Sundays at 10pm ET/PT on FX.
My favorite color is black.
My favorite franchise of all time is Star Wars. I love all of it. The movies (mostly the prequels and originals), the series, and the books/comic books. I'm currently learning how to read and write in the Star Wars aurebesh typeface.
In the summer of 2013, when I was a little kid, I wore the blue 1960's Batman mask everyday because I loved Batman, and I still do. He's my favorite superhero in the DC movie universe.
I'm very active. I've been in basketball, swimming, sailing, dance, and cross-country. I'm a fast runner. In 2nd and 3rd grade my class would play tag and race almost every day at recess. Whenever we did I always beat everyone in my class.
From Kindergarten to 4th grade I went to a full Spanish immersion school and studied spanish there.
Click inside for more fun facts…
Both of my sisters act as well. My younger sister Hannah plays my younger sister Florine on Fargo.
In Fargo, my character Satchel finds a dog named Rabbit, and just before I met her I got a dog. My dog is 11 months, and her name is Regina George (my sisters named her).
I dislike avocados (with a passion), but I love authentic guacamole.
I enjoy learning about Mechanical and Electrical Engineering.
When I had to prepare for a role where I'd be crashing a car, I actually practiced driving in a parking lot. I didn't crash though.
Like Just Jared Jr. on FB