Wed, 18 November 2020 at 6:13 pm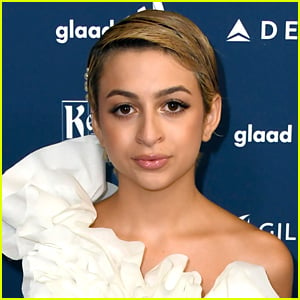 Josie Totah is speaking out about making sure there was proper representation and diversity behind the scenes of Saved By The Bell.
The 19-year-old actress not only stars in the upcoming series, but she's also a producer!
In a recent interview, Josie opened up about taking on the role of producer to ensure that there was proper representation behind the camera to help tell the stories in a more authentic way.
"The more we got to talking about [my] character and her storyline, specifically her gender identity, it became clear to me that if I was going to do the show, I needed to have more stake in it," she told Variety. "If we were going to explore her gender identity, there had to be going representation behind the camera or in our writers' room or on our producing team. And I was so grateful that Universal and [showrunner] Tracey Wigfield really championed me and allowed me to be a producer on this project because I didn't feel comfortable doing a show that explored my character's gender identity if representation didn't exist. I didn't feel it was right, I didn't feel like the story would be told authentically, and I would have had to have stakes in my character's story in order to do it."
"I think so often on a show when you're working with people who are younger or maybe less experienced, they feel like they can't speak up or use their voice on something," Josie added. "So it was really important to me to be a voice for the [other young actors] on our show, specifically Alycia Pascual-Peña. The first thing that I did in that role was making sure our hair department reflected our cast and that we had representation in that sense because Alycia, she's a Black woman and had never had a Black artist do her hair. So on aspects like that it was super, super humbling and just a privilege to be a part of. It taught me that and it was super fun to have a voice at the table."
Josie also said that their showrunner Tracey would look to her and the rest of the cast to make sure that certain things reflected authentically.
"Just getting to have a voice was super cool because our showrunner Tracey was constantly turning to not only me as a producer but also the entire cast to do a temperature check with us, to see if it felt right or if whatever we were saying or doing in the episode reflected not only our age group but also our identities, whether that was our race or our gender," she shared. "We always got to have input. At one point me and my cast mate Dexter [Darden] sat down with our showrunner and Matthew Cherry, who's an incredible director and an amazing man, and we rewrote a scene sitting in the Max, right after rehearsal but before we were about to shoot it. And I think that's a testament to how much Tracey cares about our show and wants it to reflect reality, and that was super cool."
In case you missed it, be sure to check out the Saved By The Bell trailer, and tune in to the premiere on November 25th on Peacock.
Like Just Jared Jr. on FB