Thu, 24 December 2020 at 1:48 pm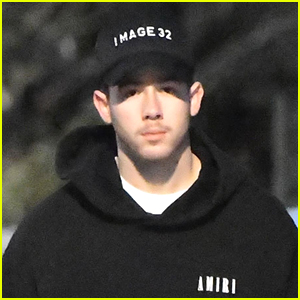 Nick Jonas is promoting his production company on his hat while out for a walk on Wednesday (December 23) in London.
The 28-year-old paired his black hat with black and white Vans shoes, a black hoodie and gray, ripped jeans for his outing.
That day, Nick hopped on a video call with his brothers Joe, Kevin and Frankie to continue their Christmas Eve Eve tradition of playing XBox games, even though they couldn't all be together. Check out a photo that Joe shared below!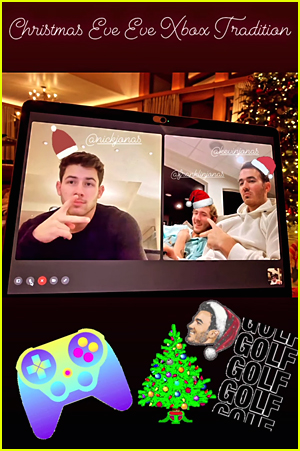 Nick made his executive producer debut through his Image 32 company, with the Netflix series Dash & Lily, which came out in November. It's also nominated for Favorite New Series in the 2020 Just Jared Jr Fan Awards!
Nick recently opened up about what kind of projects he wants take on to produce through Image 32.
"Obviously this year has been kind of a whirlwind for everyone and it's been hard to see silver linings, if there are any at all. But one of the things that happened when lockdown first started is that I suddenly had all this time on my hands to spend on writing, so I popped up my laptop," Nick told THR. "I've had a few years of experience writing but but never really had the time to dig in fully. And so out of that, in this time I've written three or four pilot episodes for TV projects, which are moving forward, and kind of half-baked a bunch of really exciting starts for features. The genre is all over the map."
"I'm a real fan of just telling stories, and of film and television in general. So I love this moment of just being able to create and let the project dictate the path forward and who those potential partners or studios might be," he continued. "It's everything from psychological thriller to a romantic comedy to bigger epic love stories. So there's quite a few different lanes, but I'm really enjoying the process of being able to shift my creativity from just one lane, whether that's music or acting, and expand that to this new creative horizon."
Like Just Jared Jr. on FB