Wed, 17 February 2021 at 2:46 pm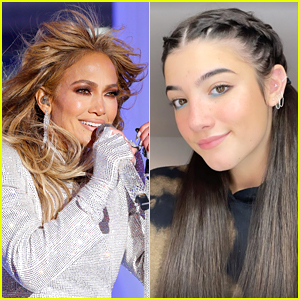 Charli D'Amelio has landed on the 2021 Time 100 Next list!
The list is an expansion of the Time 100, which highlights 100 emerging leaders who are shaping the future.
"Everyone on this list is poised to make history," Dan Macsai, editorial director of the TIME100, said. "And in fact, many already have."
Charli is the youngest person on the list at just 16 years old, and superstar entertainer Jennifer Lopez sang her praises for her feature.
"When I met Charli D'Amelio at Super Bowl LIV in 2020, I could see she had that spark you need as a performer or entertainer to draw an audience. She felt like a kindred spirit, maybe because I started out as a dancer too," JLo said. "When Charli dances, she connects. She's the biggest new teenage star right now, and it's not simply that she dances on TikTok. She's the best at it."
"When she dances, people want to be like her. Her authenticity comes through the screen. There's huge responsibility in such a high level of fame," she continued. "With each new follower or video that brings millions of views, Charli shows that the days of simply waiting to be discovered for your talents are gone. Put yourself out there on your own terms, and as Charli has proven with true authenticity, they will come."
Charli not only got to dance with JLo at the Super Bowl last year, but she was also chosen to kick off JLo's "Pa'Ti" TikTok dance in September 2020.
Charli also made Teen Vogue's Young Hollywood list!
"This year's Young Hollywood creators are focused on the people at the front of the culture, pushing us to think, laugh, dance, and cry. It takes extraordinary talent to shine through a year of pandemic, protests, and a presidential election. But these rising stars did just that," Teen Vogue said of this year's list.
Like Just Jared Jr. on FB