Fri, 19 February 2021 at 1:15 pm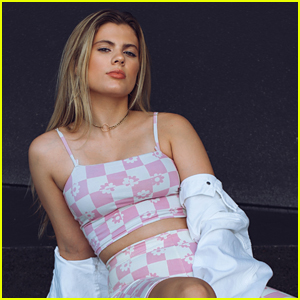 Keelie Walker just released her first EP, The Girls Night!
The up and coming singer-songwriter's debut release features eight songs, all of which she co-wrote.
On the EP, Keelie also teamed up with Julie and the Phantoms' Jadah Marie for the song "Chase." Part of the proceeds of that song are going to help clean beaches in Brazil.
Even though this is her debut EP, which you can download here, Keelie has already had quite the career. She was an opening act for Jason Derulo at just 14 years old, opened for West Life, and even was the opening act on Little Mix's LM5: The Tour!
JJJ got to know the rising musician with 10 Fun Facts. Listen to her EP and check out the facts below:
1. Animals are so cute to me, I've always been a sucker for them especially puppies. I have 4 animals. I have two cats, Jaxx and Scrapper. My two dogs are Evie and Sophie.
2. I've always been obsessed with Vampire Diaries and the whole collection. I've seen all of it 3 times and it never gets old to me, I love it.
3. I come from a pretty big family so I'm very family oriented; 7 nephews, 4 nieces, 2 sisters, and 2 brothers. I love my family.
4. I could literally dance all day, I love it. I started dancing when I was 6. I've done every style, but my favorite has always been hip-hop. When I was 11, I started working with Jrabon aka Jonathan Rabon, he's been a huge inspiration from the start. Dancers I love to watch are definitely Delaney Glazer, JoJo Gomez, and Ysabelle Capitule.
5. I love traveling. I've always been a person to enjoy road trips, and short getaways for the weekend. I love exploring new things and being adventurous so I'm always down for traveling and experiencing new things.
6. Sports play a big part in who I am. I love soccer, I started playing soccer since I was 4. Growing up I got into other sports such as track and cross country.
7. Touring is huge for me, I love it so much. I've been on multiple tours and just performing every night on stage doing what I love most is so much fun. I love getting to meet new people each night.
8. Food is life. My favorite is the classic Chick-Fil-A, of course. It's so good, I'm a very picky eater so I'm super basic with what I eat, although I do love my mom's home cooked foods. My favorites are a homemade chicken pot pie or a Dorito casserole.
9. I have a love hate relationship with shopping but I do love skincare shopping. Figuring out what works for my skin and trying new products is fun. I love doing face masks. My go-to's are The Ordinary peeling solution face mask and the Indian healing clay mask mixed with apple cider vinegar.
10. I'm lowkey a Sneaker head at heart. I don't own a lot of sneakers but I love Jordan's. I just got a pair of Jordan 1's as a gift and I'm obsessed.

'Chase' – Keelie Walker & Jadah Marie
Like Just Jared Jr. on FB