Wed, 03 March 2021 at 2:23 pm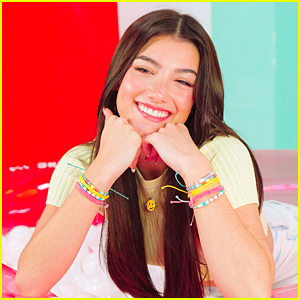 Charli D'Amelio just released her new bracelet designs with Pura Vida!
The 16-year-old TikTok star and author teamed up with the brand for an exclusive pack of five bracelets with unique new designs created by her.
During the design process, Charli wanted to make sure they were in bright colors, with yellows, teals, and pinks as the base colors, and featuring colorful beads, a smiley face charm, and a metallic piece engraved with "All Smiles Here."
"I wanted to create something that I would genuinely wear and that my friends would love too. Pura Vida is one of the only brands of bracelets I actually wear and have been wearing for years because they're so comfortable and don't feel like I have too much on my wrists," Charli shared in a statement.
"The design process was so much fun and I think the pack has a really upbeat and positive vibe to it, which was important to me. I'm so excited to finally see the bracelets out in the world and I can't wait for my friends and fans to join in on the #ShowUsYourHappy TikTok challenge, too!" she added.
The #ShowUsYourHappy challenge encourages participants to "share life's simple pleasures, nostalgic moments, or activities that they love. The last five seconds of each video will flip to a front-facing camera showing the creator and the tagline, 'All Smiles Here,' Charli's signature mantra which also appears on one of her exclusive bracelet designs."
"We're thrilled to be working with Charli D'amelio on an exclusive bracelet pack," Pura Vida Co-founder & CEO Griffin Thall said. "She's such a cheerful person with positive energy which perfectly aligns with the Pura Vida brand ethos: encouraging the enjoyment of life's simple treasures. We know our community will absolutely love the bracelets she designed and we're so excited to also be partnering with her on a TikTok campaign to promote happiness and joy."
You can sign up for early access to Charli's bracelet pack at PuraVidaBracelets.com. They will become available to purchase THIS Friday (March 5)!
Like Just Jared Jr. on FB