Wed, 03 March 2021 at 1:15 pm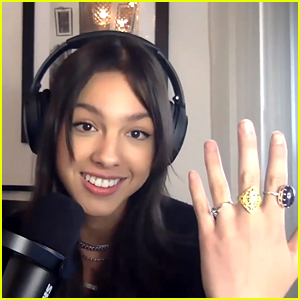 Olivia Rodrigo is dishing on a gift that she recently received from her idol Taylor Swift!
In a new radio interview with SiriusXM Hits 1, the 18-year-old opened up about the present and it's special meaning.
"She is absolutely the kindest individual in the whole world. Actually last night, like literally like 12 hours ago, I got a package from her with this like handwritten note. And she gave me this ring because she said she wore one just like it when she wrote Red and she wanted me to have one like it and I, and like all of this amazing stuff, she's like hand wrapped these gifts," Olivia said.
"I truly like don't understand where she finds the time. First of all. But like also I feel so lucky that I just like was born at the right time to be able to look up to somebody like her. I think she's incredible. All of her support and like genuine, like compassion and excitement for me is just been so, so surreal," she added.
Olivia also opened up about the gift, which came with a handwritten letter from Taylor, in another interview.
"I got a letter from Taylor Swift last night, which was insane. I opened it for the first time so I'm still reeling," she told Radio.com. "Literally, my tears are on it, my like snot from sobbing my eyes out on it. She's incredible, and I love her."
"One of my favorite lyrics of hers is, 'Past me I wanna tell you not to get lost in these petty things, your nemeses will defeat themselves before you get the chance to swing.' It's in 'Long Story Short' off of evermore and um so she wrote about that in her letter a little bit. She's like, 'I think we make our own luck and I think when you're kind to people and you know, do what's right, it always comes back to you in the best ways.' So yeah, I just adore her and that's what I've literally been thinking about since I opened that thing last night. It's the only thing on my brain," Olivia shared.
"I actually can't talk about it, I'm gonna cry. It's like so insane, I just can't even comprehend."

Olivia Rodrigo on Taylor Swift Gift
Like Just Jared Jr. on FB