Thu, 04 March 2021 at 6:46 pm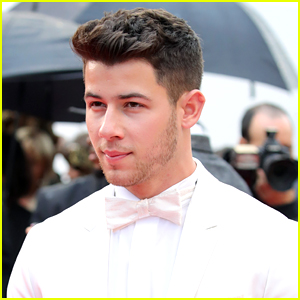 Nick Jonas has released the studio version of his new song "This Is Heaven"!
The 28-year-old musician and actor debuted the song last weekend on Saturday Night Live.
In a new interview with SiriusXM Hits 1, Nick opened up about what the song means.
"I mean, it's sort of insane that we're a year into this, you know, what's crazy is that we entered lockdown on March 12th, 2020, and on March 12th. And that's not by design necessarily," Nick shared. That was sort of just like the right time to put it out. But it seems, you know, serendipitous that that's the case. And even the last show that I performed live was on February 27th, which is the date of my first performance back on SNL."
"So all of the stuff just sort of seemed like the stars were aligning and just, 'This is Heaven' in general, basically touches on that feeling of being reunited with your personal, you know, for context Pri [Priyanka Chopra] went to a shoot in Germany for a couple months while I was in LA working on the album," he continued. "And also just, I was in LA working on other things and, and so that distance really settled in. And then when we finally were kind of back together after this time apart, I went back and wrote this song with Greg Kurstin and Mozella (who wrote the whole album with him)."
"It was just meant to encapsulate kind of that euphoric feeling of being with your person. And, you know, for me, it's, it's obviously a romantic thing, but I think, you know, for anybody that listens to this song, or as in, you know, kind of the, this moment, we've all been in, it's really about that feeling of when we're going to do that first normal thing again, or when we're going to see that the friends and family we haven't seen in almost a year or beyond," Nick said. "And, it just is supposed to give you that feeling of truly throwing your hands up in the air and saying, Oh finally, you know, and, and that's kind of the energy I wanted this chapter of the album to feel like, but this song, you know, it's, it's got the 80s feels a big influence for me on the sound of them was Peter Gabriel and Steve Winwood and weirdly things like Drake and The Weeknd as well. So it's kind of got all these different 80s influences and inspirations, but this definitely has that Steve Winwood, Michael Bolton kind of feel with the sax solo and just, it's a good time."

Nick Jonas – 'This Is Heaven'
Like Just Jared Jr. on FB