Tue, 09 March 2021 at 1:14 pm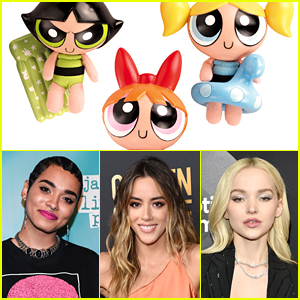 OMG! The cast was just announced for the upcoming live action Powerpuff Girls series!
Yana Perrault, Dove Cameron and Chloe Bennet have been cast to portray the characters, Deadline reveals.
The upcoming pilot will follow "the trio, Blossom, Bubbles, and Buttercup, who used to be America's pint-sized superheroes. Now they're disillusioned twentysomethings who resent having lost their childhood to crimefighting. Will they agree to reunite now that the world needs them more than ever?"
Yana will play "Buttercup Utonium. Buttercup was the rebellious badass of The Powerpuff Girls in its heyday. More sensitive than her tough exterior suggests, Buttercup has spent her adulthood trying to shed her Powerpuff Girl identity and live an anonymous life."
Dove is taking on "Bubbles Utonium. Bubbles' sweet-girl disposition won America's hearts as a child. She still sparkles as an adult, but her charming exterior belies an unexpected toughness and wit. She's initially more interested inrecapturing her fame than saving the world, but she just might surprise us and herself."
Chloe will be "Blossom Utonium. Though she was a spunky, conscientious, Little-Miss-Perfect child who holds several advanced degrees, Blossom's repressed kiddie-superhero trauma has left her feeling anxious and reclusive, and she aims to become a leader again — this time on her own terms."
This will be the second time that Dove and Chloe have worked together. Dove had a recurring role on Chloe's Agents of SHIELD. You may recognize Yana from her role in the Broadway musical Jagged Little Pill or from her own music!
Like Just Jared Jr. on FB