Fri, 12 March 2021 at 9:01 pm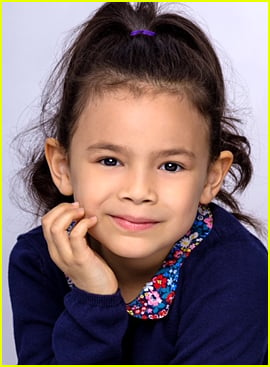 JJJ is learning more about the super cute young star of Yes Day, Everly Carganilla!
The young actress plays the youngest member of the Torres family in the movie, Ellie.
Here's a synopsis: Always feeling like they have to say NO to their kids and co-workers, Allison and Carlos decide to give their three kids a YES DAY — where for 24 hours the kids make the rules. Little did they know that they'd be going on a whirlwind adventure around Los Angeles, that would bring the family closer to each other than ever before.
Everly and her co-star Jenna Ortega, who plays her older sister in Yes Day, actually have something in common – they both played younger versions of Gina Rodriguez in Jane The Virgin! Everly played baby Jane in an episode, while Jenna starred as Young Jane in multiple episodes.
Yes Day, also starring Jennifer Garner, Edgar Ramirez and Julian Lerner, is streaming now on Netflix. You can watch the trailer here.
Find out more about about Everly Carganilla with 10 Fun Facts below!
1. I have a crazy brother who loves to play hide and seek, and when I find him he runs away.
2. I can play the piano.
3. The Floor is Lava is my favorite game and we use the couch cushions as safe zones.
4. I have a special play room at nanas house where I watch movies and play hopscotch.
5. I want to learn karate.
6. Disneyland is my all time favorite place to go anywhere.
7. Last week the toilet broke at my house so now I'm kind of afraid of toilets. haHahahaha
8. My great grandma (I call her Nani) is from Mexico and makes the best fideo sopita, I could eat it everyday.
9. I don't like cauliflower, hummus or mustard.
10. My favorite song is "Into The Unknown" from Frozen 2!
Like Just Jared Jr. on FB