Fri, 02 April 2021 at 12:50 am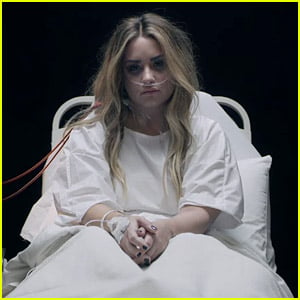 Demi Lovato is retelling the emotional story of what happened on the night of her overdose in her new "Dancing with the Devil" music video, which was just released.
The 28-year-old singer also just dropped her brand new album and you can listen to it here.
The video begins with a disclaimer saying, "This video contains content depicting addiction, drug use, trauma, and sexual abuse which may be triggering for some." It then shows Demi in the hospital with tubes going in and out of her neck to clean her blood, details that were discussed in her new YouTube docu-series.
The visual then cuts to Demi's night out before her overdose, then to her bedroom when her drug dealer sexually abused her and then left her there to die. We see as her assistant comes into the room and finds her unresponsive and then the paramedics arrive to help bring her back to life.
The rest of the video follows Demi's journey to recovery in the hospital and it ends with her revealing her "Survivor" tattoo on her neck.
TMZ's sources revealed that Demi went off script during the video shoot and surprised everyone when she "began lip-syncing the song and began to sob uncontrollably." She reportedly told people on set that filming the video was "cathartic."
Like Just Jared Jr. on FB