Fri, 02 April 2021 at 3:40 pm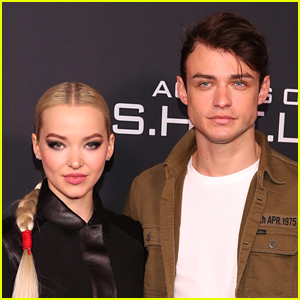 There is no bad blood and still a lot of love between exes Dove Cameron and Thomas Doherty!
The 25-year-old actress and singer just released her new song "Lazy Baby" and some thought it might be a diss track towards her ex.
Some of the lyrics include, "Killing myself, just to give you life / And you don't even care / Laying there taking it easy / But that's not fair," and "Lazy baby, I ain't playin' (Huh) / Time to get up (Ooh-ooh) / Ain't measuring up (Ooh-ooh) / Get gone / Uber lady's outside waiting."
In a new interview about the song, Dove confirms that the song actually helped her handle their breakup, and it's not about him directly.
See what she said inside…
"'LazyBaby' was born out of necessity for me," she told Nylon. "I went through a really bad breakup that was completely out of nowhere, so hard for my brain to even reconcile. I was not handling it well, and I dropped off the face of the planet. If I'm doing well, everybody hears about it. But if I'm doing badly, I'm gone."
"I was like, 'I don't need help getting into my feelings. I actually need to step outside of them,'" Dove added. "'LazyBaby' was just so incredibly upbeat, it helped me rewrite the story of what was going on so that my nervous system could get to the next step. Obviously the song is about the end of a relationship, but I didn't want it to be a breakup song. I wanted it to be a breakthrough song."
"'LazyBaby' is about someone who's not loving you correctly or well or the way you need to be loved or enough or they've stopped putting the effort in," she shared, quickly adding that it is not a diss track towards her ex. "[That term] is not a commentary on my ex as much as that it is just the premise of the song."
She even played it for him before it was released!
"I was like, 'Hey, it's important to me that you know I'm releasing this.' So I played it for him and he loves it," Dove said. "We're good friends. We love each other forever. There's a lot in the song that is not actually directly about him."
Like Just Jared Jr. on FB