Fri, 09 April 2021 at 2:47 pm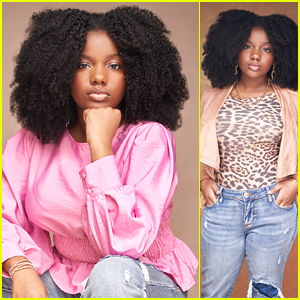 Bria Danielle Singleton is hitting the screen in her biggest role to date – Thunder Force!
The 15-year-old actress can be seen in the new Netflix movie as the younger version of Octavia Spencer's Emily.
Here's a synopsis: In a world where supervillains are commonplace, two estranged childhood best friends reunite after one devises a treatment that gives them powers to protect their city.
Thunder Force, also starring Melissa McCarthy, Jason Bateman, Bobby Cannavale, Pom Klementieff, Melissa Leo and Taylor Mosby, is now streaming on Netflix. Watch the trailer here!
Prior to the new Netflix film, Bria has also appeared on Fresh Off The Boat and the movie Thriller, and she's lent her voice to Mariah Carey's All I Want For Christmas Is You special, The Loud House and Clarence.
JJJ got to know more about the rising star with 10 Fun Facts. Click inside to see what she shared…
Check out her facts below!
1. I have a big family. I am a fraternal twin, we were born 20 minutes apart and I have 4 siblings.
2. I am ambidextrous.
3. I have been a vegetarian for 5 years.
4. I have two cats named Hades and Persephone.
5. I am a Marvel fan.
6. I am learning ASL and Spanish.
7. I love all genres of music.
8. I love playing horror video games over the phone with my friends.
9. I want to go to Bora Bora one day.
10. I have only met one other Bria in my life.
Like Just Jared Jr. on FB