Tue, 13 April 2021 at 5:31 pm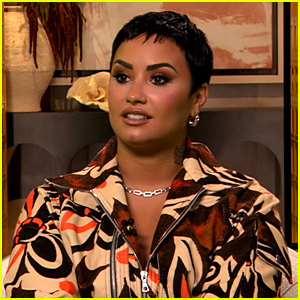 Demi Lovato gets honest about what it was like being a child star.
The 28-year-old "Dancing With The Devil" singer chatted with Drew Barrymore on her daytime talk show and discussed the difficulties of growing up that way.
Click inside to see what she said…
"My parents, they did the best that they could. There's no manual on how to raise a child star," Demi said. "And when the child star retorts back after the parent says, you know, 'You're grounded for sneaking out at three in the morning,' or whatever."
"I retorted with, 'Well, I pay the bills, what are you gonna do? What are you gonna do to keep me grounded?'" she continued. "And so it was challenging. It was also really, really interesting. I started working on set at eight years old on Barney & Friends. So I was around adults at eight years old, and I actually always got along better with adults than kids."
"For some reason that was just always me. So when I got around a lot of adults, like I felt more comfortable. But the adults leave work and they go and have a drink, the kids, what do we do?" she added. "It was this weird thing to think about, especially when you become a teenager in Hollywood, and your adult peers are, like I said, going to a bar after work or whatever, and you're 17 thinking, 'Well, what do I get to do to play?'"
"I had this mentality of like, if you're gonna work me like an adult, I get to party like one. But the reality was, adults weren't partying like I was, so," Demi said.
If you missed it, find out what Demi shared was weird about growing up on the Disney Channel in her teens…
Like Just Jared Jr. on FB