Wed, 14 April 2021 at 3:40 pm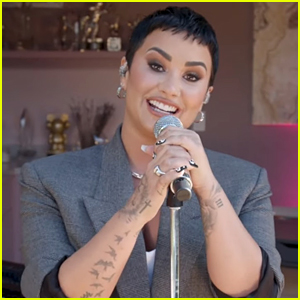 Demi Lovato wears a gray suit jacket while performing her Tiny Desk Concert, which premiered on Wednesday morning (April 14)!
The 28-year-old performed three songs – "Tell Me You Love Me," "The Art of Starting Over" and "Dancing With The Devil" – and had a special audience.
"#TinyDesk live from my backyard with my squirrels," she wrote on Twitter.
After the first song, Demi shared, "I am super excited to be filming this outside because I'm really, really excited about the weather changing. Spring is my second favorite, and summer is my absolute favorite season. So, I'm really happy to be out in the bright sunny California sun, and my squirrels are out here."
"You can't see, but I have now taught them how to eat from my hand, and that's a big accomplishment. So I just wanted to let you know, that is what was on my mind, and I'm happy to be here," she added.
If you are confused and haven't been keeping up with Demi's Instagram stories, she's had squirrels in her yard and made it her mission to befriend them and get them to come up to her. She's succeeded and as she said, has gotten them to grab food out of her hand!
Demi's Tiny Desk Concert was filmed right outside of her home studio, with her trophies and awards in the background. She showed them off back in December when the room was finished.

Demi Lovato's Tiny Desk (Home) Concert
Like Just Jared Jr. on FB