Tue, 27 April 2021 at 7:38 pm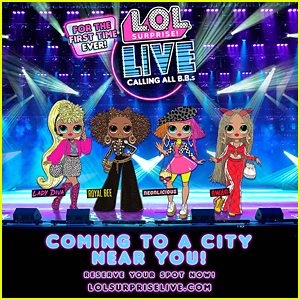 The popular toys L.O.L. Surprise! are hitting the road for a huge tour across the United States!
The new live concert experience is one of the first family friendly touring announcements and will feature Lady Diva, Royal Bee, Neonlicious and Swag like you've never seen them before.
Click inside for more info and to see the full list of cities…
Young fans can expect a high-energy, interactive show featuring all of L.O.L. hits and tons of new music and surprises. The show will highlight best-in-class production, awesome choreography from the L.O.L. Dance crew and unparalleled visuals to bring the audience into this inclusive and awe-inspiring L.O.L. universe.
"We're excited to produce the first-ever L.O.L. Surprise! Live show and give fans and families who have been eagerly awaiting the return of live events a chance to come inside the L.O.L. world and play alongside their favorite characters," Terrapin Station President/Founder and L.O.L. Surprise! Live tour producer Jonathan Shank shared in a statement. "Our highest priority is the safety and comfort of our fans. The show is going to be a must see experience for L.O.L. fans of all ages with tons of incredible music, dancing, and extra OMG surprises."
The tour is teaming up with Lyte for families to secure their reservations to the city they would like to attend. Once you reserve your spot, you'll be given first access when show specifics are announced and tickets become available.
Head to LOLSurprise.Lyte.com to reserve your spot at the show now!
L.O.L. Surprise! Live – Calling All B.B.s Tour Cities*
Albany, NY
Albuquerque, NM
Anaheim, CA
Appleton, WI
Asbury Park, NJ
Atlanta, GA
Austin, TX
Bakersfield, CA
Baltimore, MD
Birmingham, AL
Boston, MA
Buffalo, NY
Cedar Rapids, IA
Champaign, IL
Charleston, SC
Charleston, WV
Charlotte, NC
Chattanooga, TN
Chicago, IL
Cincinnati, OH
Clearwater, FL
Cleveland, OH
Columbia, SC
Columbus, OH
Dallas, TX
Davenport, IA
Des Moines, IA
Detroit, MI
Durham, NC
El Paso, TX
Eugene, OR
Evansville, IN
Fort Lauderdale, FL
Ft. Myers, FL
Grand Rapids, MI
Green Bay, WI
Greensboro, NC
Greenville, SC
Hershey, PA
Houston, TX
Huntsville, AL
Indianapolis, IN
Jackson, MS
Jacksonville, FL
Kalamazoo, MI
Kansas City, MO
Knoxville, TN
Lancaster, PA
Las Vegas, NV
Lexington, KY
Lima, OH
Lincoln, NE
Little Rock, AR
Long Island, NY
Los Angeles. CA
Louisville, KY
Madison, WI
Melbourne, FL
Memphis, TN
Miami, FL
Midland, TX
Milwaukee, WI
Minneapolis, MN
Mobile, AL
Modesto, CA
Montgomery, AL
Morristown, NJ
Nashville, TN
New Orleans, LA
New York, NY
Newark, NJ
Norfolk, VA
Oakland, CA
Oklahoma City, OK
Omaha, NE
Orlando, FL
Peoria, IL
Philadelphia, PA
Phoenix, AZ
Pittsburgh, PA
Portland, ME
Portland, OR
Providence, RI
Reading, PA
Red Bank, NJ
Richmond, KY
Richmond, VA
Roanoke, VA
Rochester, NY
Rockford, IL
Sacramento, CA
Saint Louis, MO
Salina, KS
San Antonio, TX
San Francisco, CA
San Jose, CA
Santa Barbara, CA
Santa Rosa, CA
Savannah, GA
Scranton, PA
Seattle, WA
Sioux City, IA
South Bend, IN
Spokane, WA
Springfield, MA
Springfield, MO
Syracuse, NY
Toledo, OH
Tulsa, OK
Wallingford, CT
Washington, DC
Wichita, KS
Wilmington, NC
*Cities are subject to change, no dates or venues have been announced at this time.
Like Just Jared Jr. on FB