Wed, 05 May 2021 at 1:04 pm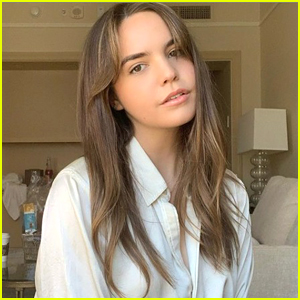 Bailee Madison is kicking off her music career!
It was just revealed that following her professional singing debut in the Netflix musical A Week Away, the 21-year-old actress has signed a new music management deal with Jonas Group Entertainment, according to Variety.
Click inside to learn more…
If you didn't know, the Jonas Group is led by the Jonas Brothers' dad Kevin Jonas Sr, and also manages artists like Livvia, Lanie Gardner, Lucy Cloud, the band Public, and more. They've also previously worked with the Jonas Brothers, Demi Lovato and Jordin Sparks.
"So much of my life has already been shared with the public, and I've always tried to be as honest and true to myself as possible," Bailee shared in a statement. "I'm finally ready to take this leap. Music is a very personal and vulnerable side of me, and this new partnership with Kevin Jonas, Sr. is an extension of that. Now sharing this part of myself with the world means so much, and it feels like a chance to give insight on my heart. Everything that I do is a circle of love, and that comes with my art as well."
"I am a firm believer that everything happens for a reason. From trick-or-treating with Kevin's son Frankie as a kid, to this thrilling opportunity, it feels like what was meant to be has fallen into place. I have the utmost respect and gratitude for the way that Kevin has navigated the music industry, and am so excited to be a part of the Jonas Group Entertainment family," she added.
Kevin Sr shared his excitement as well.
"Thrilled to welcome @BaileeMadison to the @jonasgroupent. You know her from her acting. We are so excited to work with her on her music. Please welcome her to the Jonas Group family and leave a comment on the article!" he shared on Twitter.
In a statement, he added that Jonas Group "takes great pleasure in welcoming Bailee Madison onto our roster of talented artists. It is a privilege to have known Bailee since the origins of her career in entertainment. From an early age, her creative capacities were evident. She possesses an unteachable poise. Bailee sets a moral principle and professionalism that is second to none. I can't wait to share her tremendous music talent with the world. As a young female, she stands among an incomparable category of entertainers who have an ability to succeed across multiple artistic landscapes. My team and I are honored to be a part of her musical journey."
Bailee will also soon star in her own Cinderella movie, A Cinderella Story: Starstruck, which will have some musical elements as well. Watch the trailer here!
Like Just Jared Jr. on FB