Thu, 06 May 2021 at 2:27 pm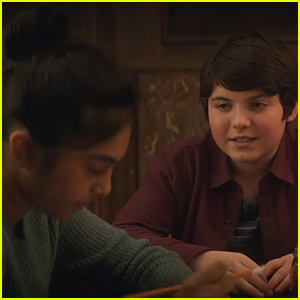 We have an exclusive new clip from the upcoming episode of The Mighty Ducks: Game Changers!
The video features Evan (Brady Noon) trying to apologize to Sofi (Sway Bhatia) and getting her forgiveness after he almost went back to the Ducks.
If you remember from last week, and as Evan points out in the clip, he convinced her to join the Don't Bothers earlier, then was just offered a position back on the Mighty Ducks when someone else got cut, and he even went to a practice with them. But in the end, he realized that he couldn't leave the Don't Bothers, but his teammates also found out about the Ducks practice.
In this week's episode, "Pond Hockey," with the team mad at Evan, and Alex (Lauren Graham) unsure of her coaching skills, Bombay (Emilio Estevez) brings them somewhere new.
Tune in TOMORROW (May 7) for an all new episode of The Mighty Ducks: Game Changers on Disney+.
If you missed it, check out our 10 Fun Facts about Sway!
Last week, it was announced that this The Mighty Ducks: Game Changers actor has been cast in an upcoming movie musical…

'Evan Tries to Apologize to Sofi'
Like Just Jared Jr. on FB