Thu, 06 May 2021 at 5:24 pm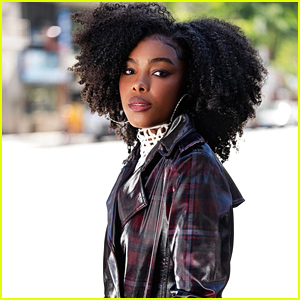 Monique Green can be seen in the new Disney+ basketball series Big Shot!
The actress plays Olive Cooper in the show, and this week, her character is getting into social media marketing.
In this exclusive new clip, Olive meets with a popular swimwear brand and excitedly signs a contract to market them on Instagram. Check it out below!
Tune in TOMORROW (May 7) for the all new episode of Big Shot on Disney+.

'Olive Partners With Hana Kea Swimwear'
We also got to know more about Monique with 10 Fun Facts! Check 'em out:
1. My parents are Jamaican and British.
2. My favorite dessert is chocolate chip cookies fresh out of the oven!
3. I studied Mandarin for over eight years and I even went to China and got to use it.
4. When I'm not acting you can always catch me singing something. I grew up singing Alicia Keys in the car with my Mum when I was little.
5. I virtually sang the national anthem at the Staples Center for the LA Clippers game this year.
6. I've got the cutest apricot teacup maltipoo named Zuli!
7. I joined a tour group on my own and went to France, Italy, and Switzerland.
8. I'm vegan.
9. Every year I like to do photoshoots with a different theme for my birthday to commemorate the special day.
10. I don't use heat on my hair anymore, so I always have curls, curls, and more curls!
Big Shot follows a men's basketball coach who is given a chance for redemption with a coaching position at an elite private high school after being ousted by the NCAA. He soon learns that the teenage players require empathy and vulnerability — foreign concepts for the stoic Coach Korn (John Stamos). By learning how to connect with his players, Marvyn starts to grow into the person he's always hoped to be. The girls learn to take themselves more seriously, finding their footing both on and off the court. New episodes premiere weekly, on Fridays, only on Disney+.
Like Just Jared Jr. on FB