Tue, 11 May 2021 at 3:32 pm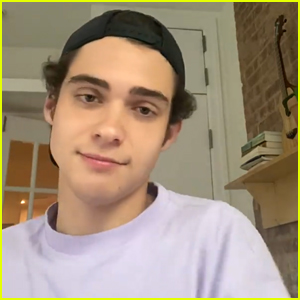 Joshua Bassett is speaking out, following his casual coming out on Monday (May 10).
The 20-year-old actor and singer took to Instagram to share a new acoustic song, and share a message about sexuality.
Click inside to see what he said in his song and his message…
"I'm breaking the spell / I'm ending the cycle / been going through hell need more than survival / if I don't work this out I'll probably pass it down again / the time for change is now / it's my life / it's my life to live," Joshua sings.
In the message he shared in his post, he wrote, "my entire life people have told me my sexuality. people have shamed me for things they know nothing about. I want to say thank you to those of you who stand for love and acceptance. toxicity, hatred, and negativity say less about the subject, but say far more about those who spew it."
"it's 2021. we are the generation of love & growth, it's time we start acting like it. whether you love me, hate me, or damn me to hell, i love you all the same," he continued. "love who you love shamelessly. it's ok to still be figuring out who you are. life's too short to let ignorance and hatred win. i choose love. ❤️🧡💛💚💙💜"
If you missed it, the day before, Joshua sang and talked about toxic masculinity and showing emotion, like crying. See what he said…
Like Just Jared Jr. on FB