Thu, 13 May 2021 at 7:16 pm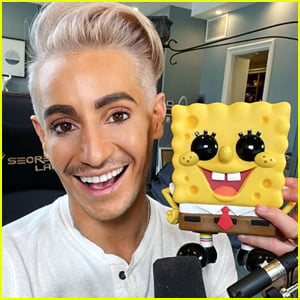 Frankie Grande is set to co-host a brand new podcast all about SpongeBob Squarepants!
The actor and singer will be joined by Hector Navarro as they recap episodes of the hit Nickelodeon series, as well has have funny convos and share never-before-heard secrets on SpongeBob BingePants.
Nickelodeon and iHeartRadio teamed up for the official SpongeBob SquarePants re-watch podcast which dives down to Bikini Bottom for a recap of every episode, hilarious conversations, and never-before-heard secrets about everyone's favorite optimistic sea sponge.
"IT'S THE BEST DAY EVER! I finally get to announce that I will be co-hosting @nickelodeon & @iheartradio's @spongebob podcast with @hectorisfunny! It's called #SpongeBobBingePants and it's going to be AMAZING so STAY TUNED for release date announcements! I'm so excited and… I'M READY! 🌈🍍🌊🧡," Frankie shared on Instagram.
SpongeBob BingePants will consist of 40 episodes and premieres later this year.
An Avatar podcast is also coming with Janet Varney (the voice of Korra) and Dante Basco (the voice of Prince Zuko).
On Avatar: Braving the Elements, Janet and Dante will re-watch every episode of Avatar: The Last Airbender and break down key themes, notable battles, and behind-the-scenes trivia. Special guests from cast members to producers join them to explore elements of the Avatarverse, including the origins of the story and how Avatar was brought to life.
It will also have 40 episodes and premieres on June 22nd.
"The family podcast market is still nascent, and we're thrilled to be working closely with our good friends at iHeartRadio producing exciting new content for all audio platforms," Douglas Rosen, Senior Vice President, Strategy, Business Development and Digital Products, Nickelodeon, said in a statement. "Not only are we extending our beloved franchises and IP to the audio landscape, but we're also working with creative talent to produce new ideas and concepts for all audiences."
Even more Nickelodeon-themed podcasts will be announced at a later time!
Like Just Jared Jr. on FB