Wed, 19 May 2021 at 7:39 pm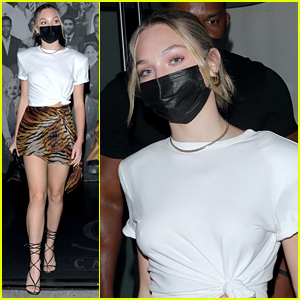 Maddie Ziegler got all dressed up for a night out on Tuesday (May 18) in West Hollywood, Calif.
The 18-year-old dancer and actress met up with friends for a meal at Catch LA.
Earlier in the day, Maddie and her sister Kenzie's new magazine cover together was released.
The siblings interviewed each other for the Elite Daily cover feature, and Maddie opened up about what she admires most about Kenzie.
"What's a time growing up [when] you were glad to have a sister?" Maddie asked.
Kenzie replied, "When I was younger, I was going through a lot of hate, so I'm glad that I had you. Our teacher, the environment we were in — it was all very stressful as a kid. I'm glad we were doing the same thing so I could have a shoulder to lean on."
"I feel the same way, even though we fought a lot. And what's funny is that even though I'm older, most of the time you were the one sticking up for me," Maddie said. "We're so different in the sense that I'm a people-pleaser. I'm super scared to voice my opinion, or at least I used to be. I didn't want to start any drama. I didn't want to get in the way. You, on the other hand, speak your opinion. Whenever something's not right, you're like, 'I'm not going to let this slide.' I admire that about you so much."
"I'm the type of person that if I'm in a fight with someone, I don't really stick up for myself. But when it comes to my friends or you, I will not have it," Kenzie added. Aww!
Head to EliteDaily.com to see their gorgeous photos and see more of their interview!
If you missed it, check out the trailer for Maddie's upcoming movie West Side Story.
Like Just Jared Jr. on FB