Mon, 24 May 2021 at 7:36 pm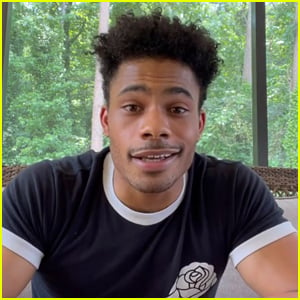 Jordan Calloway is reacting to the sad news that his Black Lightning spinoff series has not been picked up.
The 30-year-old actor was set to reprise his role as Khalil/Painkiller for a new show, but The CW decided not to move forward with it.
In a new Instagram video on Monday (May 24), he thanked fans for their support.
"What I wanted to do, was very quickly make a video saying, 'Thank you.' Thank you to the fans, thank you to the supporters. Thank you to CW, to Warner Media for affording me the opportunity to even do a spinoff. And most importantly to my cast, my crew, and of course to my god," Jordan said.
"Man, doing this project has been nothing more but, nothing less than a blessing. I can't put into words how grateful I am. From the experiences that I've learned, from the relationships I've made, it has been a blast. It has been phenomenal," he continued.
"So as we lay this character to rest and we move on to the next chapter, I just want to say thank you guys. You're amazing, I love you all," Jordan concluded, before promoting the Black Lightning finale.
Fellow CW and DC star Meagan Tandy, who stars on Batwoman, commented her sadness for the show not getting picked up.
"Whaaaat??!?! I'm honestly shocked . I just knew this was a go. My dad and I were boasting about it a few weeks ago !! I'm sorry to hear this news @j_calloway6 but I admire your outlook and vibe regarding it. Dad and I will be watching you tonight . And hey…..On to the next 💪🏽," she wrote.
Like Just Jared Jr. on FB