Tue, 01 June 2021 at 1:58 pm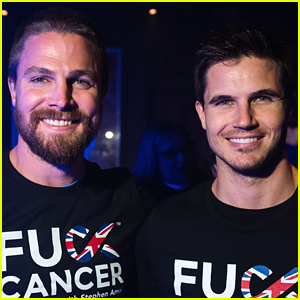 Yes, that's right – The Amell cousins are coming back for another sci-fi movie!
It was just announced that Stephen and Robbie Amell are set to reprise their roles for Code 8: Part II, Deadline reports.
The actors crowd-funded the first movie in order to get it made, and after it was released, it became a huge success, and can even be streamed on Netflix!
The director of the first movie, Jeff Chan, will return to direct the sequel. He also co-wrote the script with Chris Pare, who wrote the first one, as well as Sherren Lee and Jesse LaVercombe.
Code 8: Part II will follow "the journey of a teenage girl fighting to get justice for her slain brother at the hands of corrupt police officers. After becoming a witness to the cover-up, she becomes a target and enlists the help of an ex-con (Robbie Amell) and his former partner-in-crime (Stephen Amell). Together, they face a highly regarded and well protected police sergeant who will use every tool to prevent himself from being exposed."
"There's nothing better than working with family and friends," Robbie shared in a statement. "Code 8 was the embodiment of that. I can't wait to get back to work on the sequel."
"Code 8 is an incredibly personal and special project for all of us," Stephen added. "We built the world in the first one and now we're ready to blow it out!"
Like Just Jared Jr. on FB