Fri, 04 June 2021 at 7:58 pm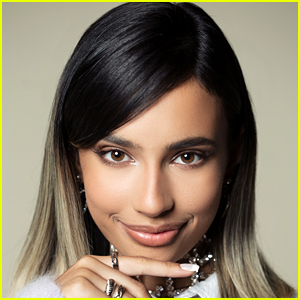 Kylie Cantrall is no stranger to being featured on JJJ!
Now, we are taking the time to get to know more about the 15-year-old actress, singer and dancer, who currently stars as the titular character in Gabby Duran & the Unsittables.
Kylie plays Gabby Duran in the series about a teenaged girl who inadvertently lands a job babysitting an unruly group of VIP extraterrestrial children disguised as everyday kids.
The Disney Channel series was picked up for a second season before the first even premiered on the network, and now the new episodes are finally coming out!
In season two, a resourceful and courageous Gabby faces even bigger challenges as she continues to protect her alien charges while also navigating the everyday emotional rollercoaster of middle school.
Check out the season two premiere of Gabby Duran & the Unsittables TONIGHT (June 4) at 8:50pm ET/PT on Disney Channel.
In addition to her starring role on the show, Kylie has also released some of her own music, which includes songs like "No Reason," "Feeling Some Kind of Way" and "That's What I'm Talkin Bout"!
The young star has also rocked some super cool looks on the red carpet, which you can see in the gallery, along with photos from the season two premiere episode.
To celebrate the new season of Gabby Duran & the Unsittables, we learned 10 Fun Facts about Kylie Cantrall. Check them out below:
1. I was so excited to get the part of Gabby Duran, the Alien Babysitter, because when I was 10 years old, I snapped a picture of a spaceship flying over my house. Looking back now, it may have been an alien casting agent.
2. I'm not the best cook but I do have a specialty dish, I make a mean "Toasted PB&J Sandwich".
3. My favorite thing to do with my co-star Callan Farris is to build Legos. We actually just built a Star Wars spaceship, and it took a little over 3 hours.
4. I used to be terrified of goats, well baby goats, petting zoo baby goats. It's a known fact, they take pleasure in biting children.
5. I've never really been into sports, but I was on the track team… for one day. I didn't mind the stretching, but the running part was the worst.
6. I was so into the Disney Princesses when I was younger, I used to tell everyone my name was Jasmine.
7. I was so embarrassed that I didn't know how to "dive" into a pool, I spent an entire day forcing myself to learn. I must have felt pretty confident because the next day I posted a video tutorial on "How to Dive". Haha. PS. I was 15 years old.
8. When I was in 1st grade my Dad got a call from my Principle, he said, "Can you please tell Kylie she has to stop telling the other students her big sister is Selena Gomez".
9. My favorite dog is a PUG. As soon as things slow down, I want to get one and name him Elvis Pugsley.
10. I just babysat my neighbors' kids and the following day I got a bad review, "My kids were very disappointed that Kylie didn't get them involved in any crazy alien adventures". Well I guess I'll be packing some "alien slime" in my bag for next time.
Like Just Jared Jr. on FB