Thu, 17 June 2021 at 7:00 am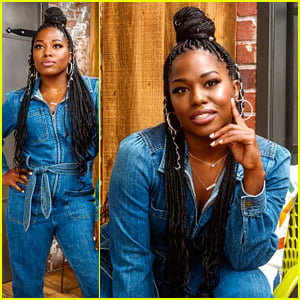 Meet Laci Mosley, one of the new stars of the iCarly reboot on Paramount+!
The actress and comedian stars as Harper, Carly's BFF and roommate, and an aspiring stylist and the child of a formerly wealthy family.
Fans have already been loving the new character!
"I'm not nervous about fans seeing the show or my character. I'm excited. I'm elated. I'm really proud of the work that we're doing here," Laci told EW. "This show really honors the fun camp that iCarly was, but it's a new conception and it is a millennial show. If you grew up watching this show and you're the age that these people are on the show, you're going to feel like you grew up with them."
Harper is also bisexual, just like Laci is in real life, though she says that was a decision for the character before she even signed on for the show.
"That wasn't a question I was asked when I tested for the pilot," she said. "It just happened to be a coincidence that they hired a bisexual woman to play a bisexual woman, which they were all elated about."
In addition to acting and being a comedian, Laci also has her own podcast called "Scam Goddess" with Earwolf and Team Coco.
"Scam Goddess is a podcast dedicated to fraud and all those who practice it! Each week host Laci Mosley (aka Scam Goddess) keeps listeners up to date on current rackets, digs deep into the latest scams, and breaks down historic hoodwinks alongside some of your favorite comedians! It's like true crime only without all the death! True fun crime!"
She's also a contributor on the ABC series The Con, which explores the troubling tales of people taken in by claims and promises that proved too good to be true, from identity fraud and misleading romance to the high-profile college admission scandal and Fyre Festival.
Laci has recently appeared on season two of HBO's A Black Lady Sketch Show, which is available on HBO Max. She also had a recurring role on the series Single Parents, as well as roles on Better Call Saul and Florida Girls. She also played Violet in the movie The Wedding Year, which stars Sarah Hyland and Tyler James Williams.
You can follow Laci on Instagram at @divalaci, and on Twitter @divalaci!
Check out Laci Mosley in the first three episodes of iCarly, now streaming on Paramount+.
Like Just Jared Jr. on FB