Wed, 23 June 2021 at 6:43 pm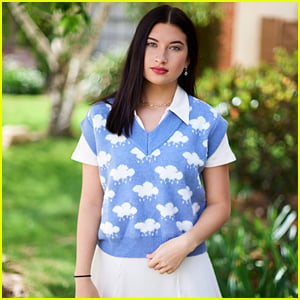 JJJ is getting to know more about Hannah Rylee!
The 18-year-old is well known for her popular TikTok videos, but can currently be seen on the new Brat TV series Good Luck Have Fun.
Hannah stars as Eleanor in the series, which follows online gamer Jane, who has her eye on the prize—crushing her rival Mia once and for all—but everything changes when she meets the boy next door.
In this week's new episode, "Character Upgrades," the team goes all-in on Jane's makeover, but their new game plan puts both Brandon and Olivia in uncomfortable positions.
Check it out below and catch all of the new episodes on Brat TV's YouTube channel.
With the new episode out now, we spoke to Hannah and learned 10 Fun Facts about her that you may have not known. Check 'em out now!
1. I'm 5'1″ and a half.
2. I have heterochromia which is a condition in your eyes that make them multicolored, so in my left eye, the top half of my eye is brown; and the bottom is green.
3. I'm bow-legged so my legs don't touch when my feet are together.
4. I hate tomatoes.
5. I'm extremely bad at cooking!
6. When I was 7, I got chased around my house by a rooster, and now I don't go near them.
7. I never learned how to swim. I can only swim under water, but can't tread to keep myself afloat.
8. I like keeping my house clean, other than my room. Just something about my room makes me not motivated to keep it clean.
9. I have 11 piercings. 9 ear piercings, a nose piercing and a navel piercing.
10. I wear a shoe size of 6 1/2 in women's.
In case you missed it, be sure to also check out our fun facts with Hannah's co-star Aliyah Moulden!
Like Just Jared Jr. on FB