Fri, 09 July 2021 at 1:51 pm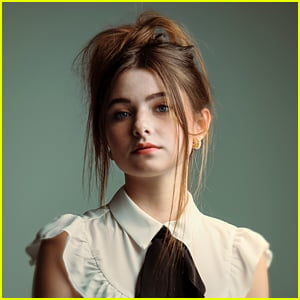 Marcelle LeBlanc has an exciting new role!
The 18-year-old actress can be seen in the new Netflix horror Fear Street Part 2: 1978, which just premiered TODAY (July 9).
Marcelle plays Becky in the second film in the trilogy, and this is her first horror role!
Click inside to read more…
In Fear Street Part 2: 1978, school's out for summer and the activities at Camp Nightwing are about to begin. But when another Shadysider is possessed with the urge to kill, the fun in the sun becomes a gruesome fight for survival. Check out the trailer here!
You may recognize Marcelle from appearances on Stranger Things or Cobra Kai. Coming up, she has the upcoming Disney+ series Just Beyond (which is also based on R.L. Stine novels), as well as Hulu's PEN15, and she'll also be seen in the upcoming movie The Waltons: The Homecoming.
JJJ got to know the up-and-coming actress with an exclusive 10 Fun Facts. Check them out below!
1. I have a 5 lbs Yorkipoo named Ralphie. He is the love of my life and goes everywhere with me. I even got him his own car seat so he could go on car rides with me!
2. I'm 18, but everyone thinks I'm younger. I've always looked a lot younger than I am, which is great for acting, but can suck in real life! I have a sister that's 2 years younger than me, and everyone thinks she's the older sister!
3. My heart is in film/tv, but my dream role is Christine Daae in Phantom of the Opera. I'm such a musical theatre geek and would love to be on Broadway one day.
4. My best friend and I have twin cars that we named Ozzy and Sharon.
5. My favorite TV show is Parks and Recreation. My family jokes with me that if Amy Poehler and I got into a Leslie Knope quote off, I would win.
6. I have a big keepsake obsession. I love memorabilia so much that I covered an entire wall of my room with random keepsakes from over the years.
7. I've been acting since I was 11, and my first roles were in community theatre, which still owns my heart. I fell in love with community theatre and arts programs so much that I created an arts scholarship program called S.T.A.R.S., which provides the necessary to kids for them to get involved in after school arts programs.
8. When I was filming Just Beyond, Megan Stott and I found out that our grandparents live in the same small town in Arkansas!
9. I have board straight hair that rarely holds a curl. When I was filming Fear Street, they spent 2 and a half hours trying to curl my hair, before finally putting in a hair piece.
10. I am a huge fashion addict. I have a very eclectic style, which has led to an overabundance of clothes and shoes in my life that now takes up 4 closets in my house.
Like Just Jared Jr. on FB