Fri, 23 July 2021 at 2:56 pm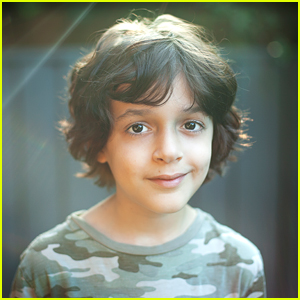 Nolan River has a big new movie out now!
The nine-year-old actor is one of four people who portray the role of Trent in M. Night Shyamalan's new thriller Old.
Nolan stars as the six-year-old version of Trent, Luca Faustino Rodriguez plays him at 11, Alex Wolff at 15, and Emun Elliott as the adult version.
Keep reading to learn more…
In Old, a family goes on a tropical holiday and discover that the secluded beach where they are relaxing for a few hours is somehow causing them to age rapidly … reducing their entire lives into a single day. Check out the trailer here!
If you missed, check out the photos of Nolan at the movie's premiere in NYC with his co-stars.
Nolan has also appeared in the movie Adverse, and on an episode of Fox's New Girl!
JJJ got to know the young actor with our exclusive 10 Fun Facts feature. Check 'em out below:
1. I read all kinds of books. I've read the entire "Harry Potter" series, the "Percy Jackson" series, the "Chronicles of Narnia" series and about 1/3 of the "Hardy Boys" book series. I reread my favorite books every day.
2. I enjoy playing Nintendo Video games. My favorites are the The Legend of Zelda and Super Mario Bros.
3. I want to be a video game designer for Nintendo when I'm older. Currently, I'm playing the Game Builder Garage and really getting an idea of just how much goes into designing a game.
4. I have fun building Lego sets. I have Star Wars, Harry Potter, Ninjago and Marvel sets. Sometimes I like to make my own creations with my Legos. I take apart the existing builds and use my imagination to create new ones.
5. I love playing with my little sister Zoë. We play all the time and I'm very thankful that I have a little sister. Sometimes I play board games with my mom and dad.
6. I have a lot of favorite foods. Pizza, edamame, chicken, lamb, mac & cheese, cherries and waffles just to name a few.
7. I've been playing piano since I was 3 years old. I usually do a recital once a year.
8. I'm an early morning person. I get up every day between 5:30am and 6:30am – no matter what time I fall asleep.
9. I like swimming in the summer. I have flippers, a mask and snorkel. The flippers help me swim really fast.
10. My favorite TV shows are mainly Ninjago and Wild Kratts. I sometimes watch the Magic School Bus with my sister. I think I've seen every episode of all 3 shows.
Like Just Jared Jr. on FB