Tue, 27 July 2021 at 2:38 pm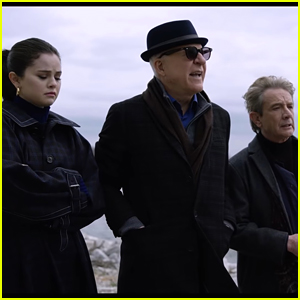 Selena Gomez is on the case in the official trailer for her upcoming series Only Murders In The Building!
The 29-year-old entertainer stars as Mabel in the Hulu show, alongside Steve Martin and Martin Short. They all also serve as executive producers.
Watch the trailer and learn more inside…
Selena's Mabel is a stylish woman in her 20s who is full of contrasts and mystery.
"She lives alone in a vast Arconia apartment she shouldn't be able to afford. She sporadically talks about her past, old friends and regrets – but it's always a bit unclear what is real or a lie. While she self-admittedly has trouble bonding with people, Mabel's own passion for true crime leads her into a partnership with Charles and Oliver to solve the curious death of their neighbor. Her keen instincts and smarts make her a sophisticated detective."
The series follows three strangers (Martin, Short and Gomez) who share an obsession with true crime and suddenly find themselves wrapped up in one. When a grisly death occurs inside their exclusive Upper West Side apartment building, the trio suspects murder and employs their precise knowledge of true crime to investigate the truth.
As they record a podcast of their own to document the case, the three unravel the complex secrets of the building which stretch back years. Perhaps even more explosive are the lies they tell one another. Soon, the endangered trio comes to realize a killer might be living amongst them as they race to decipher the mounting clues before it's too late.
Aaron Dominguez also stars, and the trailer showed a teaser at Glee's Jane Marie Lynch!
Only Murders In The Building will premiere on August 31st, with new episodes coming out on Tuesdays.
Like Just Jared Jr. on FB