Tue, 27 July 2021 at 12:50 pm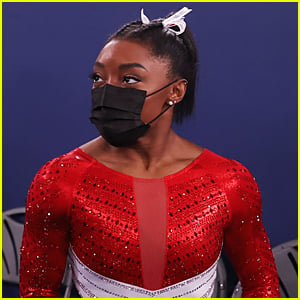 Simone Biles surprised everyone when she withdrew from the Olympics Women's team gymnastics event on Tuesday (July 27) in Tokyo.
The 24-year-old gymnast's reason was first revealed as a "medical issue," but she later cited mental health concern.
Click inside to find out more…
After the event, Simone addressed the media and opened up about her withdraw.
"For me, I'm proud for how the girls stepped up and did what they had to do. I owe this to the girls, it has nothing to do with me. I am very proud of them," she said, via CNN.
Simone was also asked what she told her teammates, and she said, "You have done all the training, you can do this without me, and it will be just fine."
Though she withdrew from the team event, she still stayed to cheer on her team and they won the silver medal!
Earlier in the day, Simone took to Instagram saying that sometimes the pressure is hard.
"prelims ☑️ now to prepare for finals. it wasn't an easy day or my best but I got through it. I truly do feel like I have the weight of the world on my shoulders at times. I know I brush it off and make it seem like pressure doesn't affect me but damn sometimes it's hard hahaha! The olympics is no joke! BUT I'm happy my family was able to be with me virtually🤍 they mean the world to me!" Simone wrote.
Ahead of the Tokyo Olympics, Simone shared that going into these games, she doesn't feel she has to prove anything. Find out what all she said…
Like Just Jared Jr. on FB