Wed, 28 July 2021 at 10:14 pm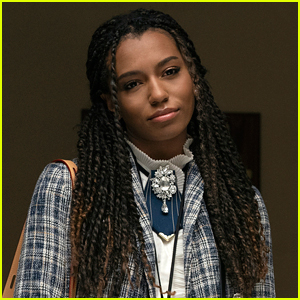 Savannah Smith is dishing on her Gossip Girl character Monet de Haan!
In a new interview with Flaunt magazine, the actress opened up about Monet's fashion, and something she learned while playing "the school villain."
See what she said inside…
One outfit that really stands out for her is a Halloween look she wears in next week's episode five.
"It's this super tight, bedazzled denim dress," she told Fault. "I don't think I would ever wear it personally, but I definitely felt glamorous in it, and that's what I love so much about these crazy costumes—they really do help you shift your body. As soon as you put something on that's $5,000, your body language changes. You change how you walk and how you move. It lends itself to helping you craft the character."
Savannah also shared that she learned something about herself while portraying Monet, who's not the nicest person.
"The thing I learned from playing Monet was that I'm probably way nicer than I thought," she says. "You never want to toot your own horn, but after playing someone who's like Satan's spawn for nine episodes, you realize you're not that dramatic."
"I'm a Leo, I'm a bit of a dramatic person, so I think acting fulfills me in that way. Acting fulfills me in representation," Savannah adds about acting in the show, which is her first professional gig. "I love being part of a community on screen that is making change. It feels really good to play a character that's in a position of power and great wealth, just to show little Brown and Black girls that it is possible and they can be in these positions."
Don't forget to catch new episodes of Gossip Girl on HBO Max every Thursday!
If you missed it, the new Gossip Girl set a record for the streaming service…
Like Just Jared Jr. on FB