Fri, 13 August 2021 at 5:10 pm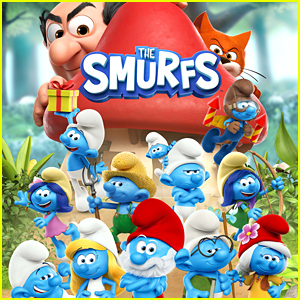 The Smurfs TV series is coming to Nickelodeon very soon!
In just under a month, your favorite blue friends will be hitting the small screen with their brand new series.
Not only was the premiere date just revealed, but the first teaser trailer was also unveiled.
Click inside to watch and learn more…
The upcoming series, which was first announced last summer, follows Papa Smurf, Smurfette, Brainy, Hefty, Clumsy and the other inhabitants of Smurf Village on all-new adventures, packed with humor, heart and high-stakes action. In the premiere episode, "Smurf-Fu," when Smurfette rescues Brainy from a giant snake, the other Smurfs ask her to teach them "Smurf-Fu." Next in, "Diaper Daddy," when everyone is tired of changing Baby's diapers, Handy decides to invent a robot that will do the job.
Lending their voices to the popular characters are David Freeman as Papa Smurf, the father figure keeping the other Smurfs in line; Berangere McNeese as Smurfette, a curious Smurf who is always ready to take part in new adventures; Lenny Mark Irons as Gargamel, a conniving human wizard with a bottomless thirst to capture Smurfs; Youssef El Kaoukibi as Brainy, who considers himself the smartest of the bunch; and Catherine Hershey as Willow, the brave and wise matriarch of a new tribe of girl Smurfs.
The Smurfs will make their return to television for the first time in nearly 40 years on Friday, September 10th at 7:30pm ET/PT on Nickelodeon!
If you missed it, check out the latest Nickelodeon news!
Like Just Jared Jr. on FB