Wed, 15 September 2021 at 7:49 pm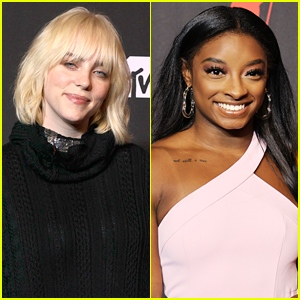 Billie Eilish and Simone Biles have received the honor of being named one of Time magazine's Time100!
The young women are among those who are being recognized as the most influential people in the world, and both of them are featured on one of the seven worldwide covers of the mag.
Check out the covers in the gallery!
"I find reason for optimism… in our 18th annual TIME100 list of the world's most influential people. It features extraordinary leaders from around the world working to build a better future, from entertainers striving to make Hollywood more inclusive to activists fighting for sustainability and human rights….They are disrupters, fixers, doers, iconoclasts, problem solvers—people who in a year of crisis have leaped into the fray," Time CEO and editor in chief Edward Felsenthal said of this year's list.
Click inside to see who else made the list…
"Billie Eilish is a unique soul, with a voice, style and attitude all unapologetically her own," Megan Thee Stallion said of Billie. "She is a rare spirit who speaks from her heart with no pretenses….One who is strong, but still learning and still growing. A woman who stands up for herself and advocates for women everywhere."
Serena Williams had the following to say, "Simone strikes the powerful balance between humility and confidence—she's enthusiastic yet stoic, believing in her strength, trusting her body and embracing her greatness. With a total of 32 Olympic and world championship medals….What she embodies truly reflects the endless potential of Black women. I wish I had her to look up to when I was younger and trying to realize my dreams."
Keep reading to see the full list of the 2021 Time100 Most Influential People in the world…
Stacey Abrams, politician
MiMi Aung, engineer
Bad Bunny, rapper
Mamata Banerjee, Chief Minister of West Bengal
Abdul Ghani Baradar, Taliban deputy prime minister
Mary Barra, CEO of General Motors
Naftali Bennett, Prime Minister of Israel
Joe Biden, 46th U.S. President of the United States
Simone Biles, gymnast
Fatih Birol, Executive Director of the International Energy Agency
Mark Bradford, artist
Tom Brady, football quarterback
Kane Brown, singer-songwriter
Nayib Bukele, President of El Salvador
Vitalik Buterin, Ethereum co-founder
Tucker Carlson, television host
Kenneth I. Chenault and Kenneth C. Frazier, co-founders of OneTen
Liz Cheney, United States representative
Cynthia Choi, Russell Jeung, and Manjusha P. Kulkarni, Stop AAPI Hate leaders
Tim Cook, CEO of Apple
Roger Cox, attorney
Ben Crump, attorney
Mario Draghi, Prime Minister of Italy
Ei Thinzar Maung Bamvo and Esther Ze Naw, activists
Billie Eilish, singer-songwriter
Prince Harry and Meghan, The Duke and Duchess of Sussex
Allyson Felix, track and field athlete
Barney Graham, immunologist
Nikole Hannah-Jones, journalist
Jessica B. Harris, culinary historian
Kamala Harris, Vice President of the United States
Cathy Park Hong, writer
Jensen Huang, CEO of NVIDIA
Sherrilyn Ifill, President and Director-Counsel of the NAACP Legal Defense and Educational Fund
Mohammed El-Kurd and Muna El-Kurd, activists
Lil Nas X, rapper
Aurora James, fashion designer
N.K. Jemisin, writer
Scarlett Johansson, actor
Daniel Kaluuya, actor
Katalin Kariko, biochemist
Angélique Kidjo, singer-songwriter
Ron Klain, White House Chief of Staff
Barbara Kruger, artist
Kengo Kuma, architect
Sunisa Lee, gymnast
Elisa Loncon Antileo, activist
Joe Manchin, United States senator
Olimpia Coral Melo Cruz, activist
Indyra Mendoza and Claudia Spellmant, activists
Sara Menker, CEO of Gro Intelligence
Narendra Modi, Prime Minister of India
Lidia Morawska, researcher
Elon Musk, CEO of Tesla Motors
Alexei Navalny, Russian opposition leader
John Nkengasong, virologist
Shohei Ohtani, baseball player
Ngozi Okonjo-Iweala, Director-General of the World Trade Organization
Geert Jan van Oldenborgh and Friederike Otto, World Weather Attribution leaders
Phyllis Omido, activist
Naomi Osaka, tennis player
Luis Manuel Otero Alcántara, artist and activist
Dolly Parton, singer-songwriter
Adar Poonawalla, CEO of Serum Institute of India
Ebrahim Raisi, President of Iran
Dorottya Redai, activist
Shonda Rhimes, television producer
Tracee Ellis Ross, actor
Felwine Sarr and Bénédicte Savoy, researchers
Mahbouba Seraj, founder of the Afghan Women's Network
Jada Pinkett Smith, Willow Smith and Adrienne Banfield Norris, hosts of Red Table Talk
Nasrin Sotoudeh, lawyer
Britney Spears, singer-songwriter
Jason Sudeikis, actor
Omar Sy, actor
Swizz Beatz and Timbaland, Verzuz music producers
Frans Timmermans, Vice-President of the European Commission
Luiza Trajano, Magazine Luiza chair
Donald Trump, 45th President of the United States
Viya, live-streamer
Adi Utarini, researcher
Rochelle Walensky, physician-scientist
Kate Winslet, actor
Xi Jinping, Chinese politician
Bowen Yang, actor
Steven Yeun, actor
Youn Yuh Jung, actor
Chloé Zhao, filmmaker
Like Just Jared Jr. on FB
Credit: Michelle Watt, Ramona Rosales, Nhu Xuan Hua, Pari Dukovic, Mark Peckmezian, Djeneba Aduayom; Photos: Time
Posted to:
Billie Eilish
,
Britney Spears
,
Joe Biden
,
Magazine
,
Naomi Osaka
,
Simone Biles
,
Suni Lee
,
Tracee Ellis Ross
,
Willow Smith