Mon, 20 September 2021 at 6:20 pm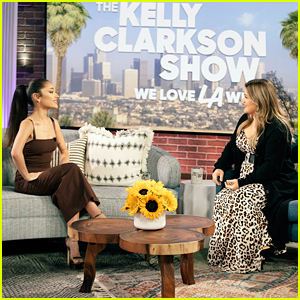 Ariana Grande reveals she has a few fans that have become fans that she plays her new music for before releasing it to the public!
The 28-year-old made an appearance on The Kelly Clarkson Show on Monday (September 20) and dished on what she does with her music.
"Meghan Trainor said, she told us that she likes to play rough tracks for Uber drivers," Kelly asked. "Have you ever played songs before they come out for anybody just to get like a taste test?"
Click inside to see what Ariana said…
"Yes, of course, yeah. You mean like before the label?" Ariana replied. "Oh, everybody before the label. As many as I can find. Sorry, no offense, sorry. No, thank you. I'm just kidding… for everything. I love you guys."
"I have like a couple of very close friends that I met through the internet, through being fans of mine, like four or five years ago. We became very close and like with Sweetener and thank u, next and Positions, like they heard all of it and more that didn't make it beforehand and helped me put it together," she continued. "I trust them with everything because they are the people that I care about, touching with this music the most."
"I have so much respect for what the label has to say, I appreciate it and like my, you know, the team and those people, but at the same time, I really value what my fans have to say. I think that's way more important."
Ariana also talked about The Voice, her duet with Demi Lovato, and moving to LA before booking Victorious. She even played a game with Kelly. Check out all of the videos right here!
Like Just Jared Jr. on FB