Wed, 10 November 2021 at 8:23 pm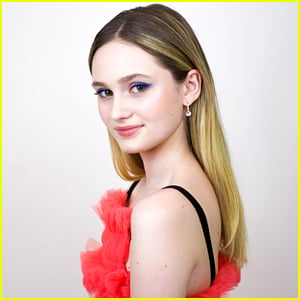 Audrey Grace Marshall reveals filming has finished on the upcoming live action The Fairly Oddparents series!
The young actress will be starring in the show for Paramount+ as Vivian "Viv" Turner, which is her first leading role.
Audrey shared a post on Instagram on Wednesday (November 10) about wrapping the first season, sharing how grateful she is to be a part of the project.
See what she shared inside…
"I wrapped my very first lead role in a series a week ago today. It took me a minute to post about it because honestly I am still trying to process all of the wonderful feelings this experience gave me. From start to finish it was absolutely incredible," Audrey wrote.
"From the moment I was cast as Vivian Turner to the final shot of our 13th episode it was nothing less than a dream come true. Every single person on the set became a friend and those friends soon became family," she continued.
"I feel so honored to be a part of this show and I can not wait for the world to see it. I'm forever grateful to @outsmartin & @ceejaynowak for changing my life in the most amazing way and giving me the role of a lifetime! And I'm so grateful for @imogen_cohen & @tylerwladis who have become my real life best friends -this experience wouldn't have been the same without you. I really love you both so much ❤️❤️❤️ and @rjhatanaka & @laurabellbundy thank you both for everything. Best set parents and friends a kid could ask for!! I can not wait for S2!!"
"When I got the audition from @margotmenzel & @jenjen2010 I wanted the job so badly. I had an immediate attachment to Vivian because she reminded me of myself in so many ways. I guess what I really want to say is, dreams really do come true and I'll forever be grateful for this experience. 😭😭😭," Audrey said.
See all the photos she shared on her Instagram HERE.
The Fairly Oddparents series will combine live action and animation and is slated to premiere later this year!
Get all the details on the show, including the synopsis and her co-stars.
Like Just Jared Jr. on FB