Wed, 10 November 2021 at 5:21 pm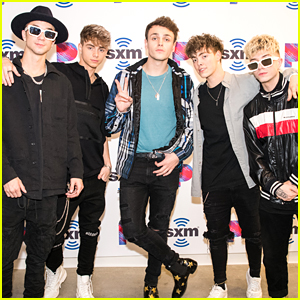 Why Don't We are revealing some shocking new details about what they've been going through.
The group – Jack Avery, Corbyn Besson, Zach Herron, Jonah Marias and Daniel Seavey – went on the Zach Sang Show for a tell all interview.
Click inside to read more…
"We haven't been paid in a while. It's like crazy," Jonah revealed.
"[Not] since COVID," Daniel added.
Daniel also revealed that he almost quit the band and left.
"There was a moment where, I've never said this, but for the sake of my mental health, I said, 'Guys, I love you all but I think I have to leave,'" he shared. "And they all, literally with open arms, brought me in and were like, 'We get it.' And like, this might be the best for all of us."
"This was like, first, second year of being a band… It was just that bad," Daniel added.
If you didn't know, Why Don't We has been in a legal battle and came out with allegations of abuse from management, which they went into detail in this new interview.
Among the things they shared also include that they were essentially locked inside their house and couldn't leave unless their manager allowed them to. They said they would order Postmates and sneak out to get the order, hiding snacks in their drawers.
Why Don't We also shared that the music and fans kept them going, and teased what's next for them.
Watch their full interview with the Zach Sang Show below…
Like Just Jared Jr. on FB