Wed, 17 November 2021 at 6:08 pm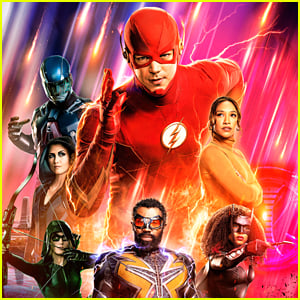 Eric Wallace, the showrunner of The Flash, is speaking out about the new crossover-like event Armageddon!
The first episode aired on Tuesday (November 16) and he revealed that there are two heroes in it that just had to be there and it couldn't happen without them.
Click inside to see what he shared…
"This story could not have been told — 'Armageddon' — without specifically Black Lightning and Batwoman. It could not be told. They had to be in it," Eric told The Wrap.
"The ending of 'Armageddon' could not have been told without Mia Queen. There's a reason why these specific guest stars were chosen. Because that's the story that Barry is on and the trajectory that he's on it," he added. "That was really an exciting challenge. And it created what I think are some of the greatest individual scenes in the universe so far, because remember, the Arrowverse, they can all hang out together, they can all be together in unexpected ways."
Find out what other heroes will be taking part in Armageddon!
Eric also added that we'll get to see Bart (Jordan Fisher) and Nora (Jessica Parker Kennedy) early on in the season, post-Armageddon.
"Let's just say Bart and Nora — who are not a part of 'Armageddon,' I don't want to raise expectations — but let's just say their story, in the funniest way, in the funniest way possible spins out of 'Armageddon' for the season," he said. "It's really, really quite hilarious. And so you'll see them pretty soon after 'Armageddon' early in the season. And hopefully, we'll have them visit us a couple of times, because their chemistry of Jessica and Jordan is just magic."
If you missed it, find out what's happening to The CW's schedule…
Like Just Jared Jr. on FB