Mon, 22 November 2021 at 2:47 pm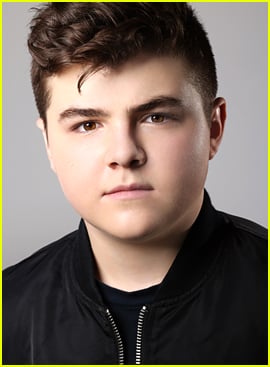 We are getting to know William Ludwig!
The young actor portrays a young Tony Soprano in The Many Saints of Newark.
The Sopranos prequel film is out now and follows young Anthony Soprano, who is growing up in one of the most tumultuous eras in Newark's history, becoming a man just as rival gangsters begin to rise up and challenge the all-powerful DiMeo crime family's hold over the increasingly race-torn city.
Click inside to learn more…
Caught up in the changing times is the uncle he idolizes, Dickie Moltisanti, who struggles to manage both his professional and personal responsibilities—and whose influence over his nephew will help make the impressionable teenager into the all-powerful mob boss we'll later come to know: Tony Soprano.
Watch the intense, action-packed trailer here!
William portrays the younger version of the character, played by Michael Gandolfini in the movie. Michael's father James Gandolfini portrayed Tony Soprano on the hit series.
In addition to The Many Saints of Newark, William has also been seen on Nickelodeon's Side Hustle and Disney Channel's Just Roll With It.
You'll be able to catch him back as Don Kuko on Side Hustle this season.
JJJ spoke to William Ludwig and learned 10 Fun Facts about him. Check them out below!
1. My very first performance was in my preschool play where I was a scuba diver in a Beatles-inspired yellow submarine.
2. I've always wanted to get my pilot's license one day. I think it would be so cool to be able to go anywhere in the world without having to worry about getting my flight cancelled.
3. I've been wearing glasses since I was five, and it's not bad at all.
4. I have a dog named Beaux (pronounced Bo, but spelled Louisiana-style) and he's a very chunky yellow lab. Over quarantine I came up with a voice for him and I've been voicing what I think he's thinking ever since – and that puppy thinks some crazy things!
5. My favorite food is sushi. Whenever we order food my first suggestion is always sushi, no matter what.
6. My favorite place to visit in California is Yosemite. It has so much natural beauty and I love swimming in the deep cold river near our cabin. I love hiking up to the outlook to see Half Dome and El Capitan at sunset.
7. I love writing scripts and doing short films with my friends. I've started writing about 15 scripts and have only finished one. I am working on completing the rest.
8. My favorite place in the world is New York City. Sure, it smells and it's a little dirty, but the people and the environment are amazing and constantly changing. There's always something different to do, somewhere to go, and something to eat. My mom and I lived in New York during the filming of The Many Saints of Newark, right in the middle of Times Square. It was very loud and very bright, but we still had a wonderful time, and I would do it again in a heartbeat.
9. I love playing tennis. I'm hoping to make my school's team this year. I've been playing tennis since I was 5 and it's so much fun to be able to just go out and hit with my friends or family.
10. I have a little brother whose name is Jackson, but we call him Jack-Jack (like The Incredibles). He's not really into acting, but he hopes to be a professional baseball player or the President of the United States one day and I truly believe he can make both of those things happen.
Like Just Jared Jr. on FB