Fri, 26 November 2021 at 8:19 pm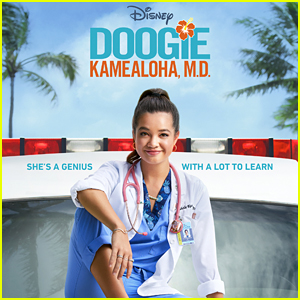 Missing Doogie Kamealoha, M.D.? This may be a great read for you!
It's been a couple of weeks since the season one finale of the Disney+ series aired, but the streamer has yet to announce any plans for a second season.
If it does get renewed (fingers crossed!!!), creator Kourtney Kang revealed some potential ideas and plans that they have in store for the characters.
Click inside to read more…
In an interview with Hollywood Life, Kourtney, who is also a writer and executive producer on the show, dished that they would love to explore more about the supporting characters, like the other doctors and Lahela's (Peyton Elizabeth Lee) family.
"We're really excited. We're hopeful that we'll get to do a season 2. The thing that I'm really excited about is our cast is so phenomenal. I think season 1 Lahela was our sort of eyes-in, Doogie of it all. And now season 2, I'm so excited to get more into more of our supporting characters at home and at the hospital, especially at the hospital," she said.
"We have Jeffrey [Bowyer-Chapman] and Mapuana [Makia] and Ronny Chieng who are all so funny. I feel like with more runway we will be able to delve more into their emotional lives and see what's happening there," Kourtney continued. "So that's one thing we're really excited about, and then also at home, Brian Patrick (Wes Tian) and Kai (Matt Sato) are so funny and Steph (Emma Meisel) as well. I watch the show each week with my family. I have three girls, and they love those kids' stories. It's so fun to see them enjoying that, so I'm excited to dive more into that as well."
Kourtney also added that more about her dad Benny (Jason Scott Lee) and Hawaii would be explored.
"I'm excited to tell more stories focused on Benny next season and also that ties into one of the things that I love about our show is that it's set in Hawaii and being able to tell stories that only our show can tell. That's another thing for season 2 that we're really excited about is to delve more into those stories that really feature Hawaii and what it's really like for the folks who are living there," she dished.
She even shared that they are hopeful that they could get original Doogie, Neil Patrick Harris, to come in!
"We're hopeful that he would come and play with us in season 2. It's one of our writers' room's favorite things to pitch: what could we do with Neil if we get him to come out to the show? There's a lot of ideas percolating," Kourtney told Hollywood Life.
They would even like to have real life doctor Ken Jeong, Gina Rodriguez (who directed an episode in season one), and have Randall Park return.
Like Just Jared Jr. on FB