Fri, 03 December 2021 at 7:00 pm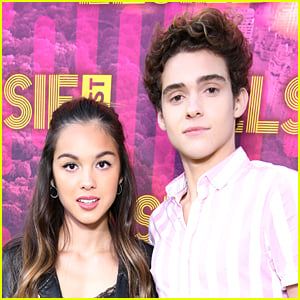 Joshua Bassett is opening up about the current status of his relationship with Olivia Rodrigo.
The two have been co-starring on High School Musical: The Musical: The Series for two seasons and also dated at one point.
Earlier this year, Olivia dropped her massively hit song "driver's license" and it has been highly speculated that it was about their relationship.
In a new interview with GQ, Joshua opened up about where they currently stand, 11 months later, and he shared that she hasn't spoken to him all year.
Click inside to read more…
On the lasting effects of the song and the reaction to it, he said, "I would see TikToks with like 50 million views and 10 million likes saying, 'If I ever see that kid on the street, I'm going to f***ing kill him'… It's hard to see that and then be living in New York and walking down the street."
He added about defending himself back then, that "it sort of felt like a losing battle… If I try and defend myself in any way, it just felt impossible."
Joshua has also tried to talk to Olivia, but "[Rodrigo] hasn't spoken to me since 'Drivers License' came out."
Earlier this year, he even praised Olivia's song "deja vu" and her album Sour before it was released.
"People don't realize how long ago that was," he adds. "It's not as recent as it seems. I'm a completely different person now."
Now, Joshua is finally ready to open up about he situation and share his side of things, as displayed in his new music that was just released.
"I'm not here to expose people. It was eating me alive, and I couldn't keep it in anymore," he says.
In his new song "Crisis," Joshua sings, "If you get to tell your truth then so do I… Half the sh-t you're saying is only half true, messing with my life as a career move."
Like Just Jared Jr. on FB