Fri, 10 December 2021 at 2:15 pm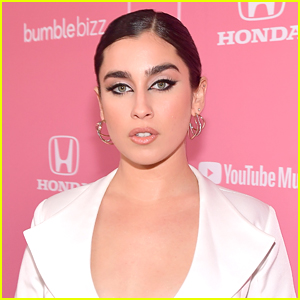 Lauren Jauregui is speaking out in regards to the response to her recent appearance on Red Table Talk: The Estefans.
The 25-year-old singer went on the show and talked about being cyberbullied and publicly outed, but some of the reactions to the episode were less than stellar.
Lauren took to Twitter to speak out against what some were doing and bring more awareness to be careful with how you say things online.
Click inside to see what she said…
"Hi loves, I know this episode was intense but I wanna be clear that I'm speaking about these things from a healed place. I don't wanna rehash drama or center my story on either of these happenings, they were my contribution to a larger conversation of cyber bullying," Lauren wrote. "With that said, bringing awareness to such a topic would be completely in vain if we took this opportunity to send hate and nasty shit to anyone. It doesn't matter who they are or what was done, returning venom doesn't solve anything and it contributes to this nasty culture of anonymously telling someone to harm themselves or sending them harmful things."
"I don't condone that, I don't want any of you doing that in my defense. I understand it's hard to hear vulnerable things but the reason I share is to transcend and bring awareness, not to contribute further to the problem," she continued. "We aren't the ones who get to decide what someone does or doesn't deserve for harm caused, and I certainly am not dwelling over what was done. I wanna focus on the message which is to be kinder with your words, more thoughtful with your words in this online space."
See Lauren's tweets below for her full response…
said, bringing awareness to such a topic would be completely in vain if we took this opportunity to send hate and nasty shit to anyone. It doesn't matter who they are or what was done, returning venom doesn't solve anything and it contributes to this nasty culture of anonymously

— PRELUDE (@LaurenJauregui) December 10, 2021
the problem. We aren't the ones who get to decide what someone does or doesn't deserve for harm caused, and I certainly am not dwelling over what was done. I wanna focus on the message which is to be kinder with your words, more thoughtful with your words in this online space.

— PRELUDE (@LaurenJauregui) December 10, 2021
Humiliating and gossiping about ppl isn't cute and that's the point. Just keep in mind your mental health while on this app and all the apps. If you're not sending something that's adding to someone's life, don't do it. Sending you all love.

— PRELUDE (@LaurenJauregui) December 10, 2021
Like Just Jared Jr. on FB