Tue, 25 January 2022 at 5:07 pm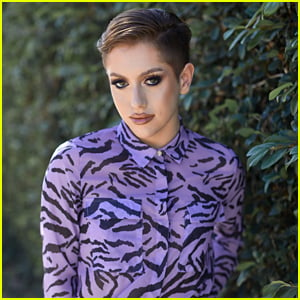 Viral star Brendan Jordan is opening up about 10 things you may have not known about him!
The 22-year-old YouTuber is currently starring in the Brat TV series Attaway General as Benny.
A new episode of the web series just debuted on Tuesday (January 25), where Benny comes clean to Mikey about his feelings and not all's well between Travis and Edward.
To celebrate the new episode, we learned 10 Fun Facts about Brendan!
Find out more inside…
If you are unfamiliar with Brendan, she went viral for dancing on the news in 2014. You can learn more about that moment on her YouTube channel!
Brendan identifies as non-binary and uses the pronouns he/him and she/her.
Get to know more about Brendan Jordan with 10 Fun Facts below!
1. I could eat sushi every single day of my life.
2. If my house is a mess, I am probably a mess. The cleanliness of my house directly reflects how I'm doing mentally that week.
3. As much as I want to be a busy party girl, I am a stay-the-night-in grandma girl.
4. I love being by myself just as much as I love being surrounded by people.
5. If you want to be friends with me, be ready to watch the same movies over and over again.
6. I love antiquing. Something about what I buy potentially being haunted excites me.
7. I personify animals way too much for it to not be a subconscious trauma response.
8. I already saved a username for my future poodle's Instagram. No set plans to get a poodle yet… but one day.
9. I'm obsessed with Disneyland, however I am not one to watch or really care about most Disney movies.
10. As long as I can make people feel something, my life will be fulfilling.
Check out Brendan in the latest episode of Attaway General right here, and catch past and future episodes on Brat TV!
Like Just Jared Jr. on FB