Tue, 25 January 2022 at 2:05 pm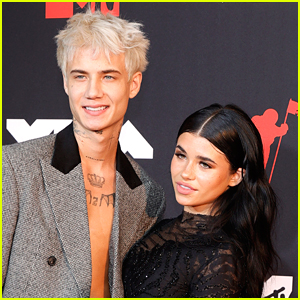 Nessa Barrett is dishing on her boyfriend Jaden Hossler!
The 19-year-old "i hope you're miserable until ur dead" singer takes the digital cover of Seventeen magazine and opened up about her relationship, including how he's helped her in different aspects of her life.
Find out what she said inside…
On how her boyfriend Jaden is a part of her music process and they just moved in together: "We actually just officially moved in together. The energy in the house is already insane. We finished setting up our studio and we sing nonstop, it's incredible. We have so many instruments that we play. Even when we're bored, we'll find beats on YouTube and play and freestyle, and it's the funniest thing ever. It's so crazy because every now and then, we'll go up to each other and we'll be like, 'Babe, I have this idea.' And then we'll sing each other the lyrics and see if the other thinks it's cool. It's like we're each other's tests."
On what her relationship with Jaden has taught her: "I thought that I wasn't capable of fully loving someone the way that I've seen people love others, because I've never been this in love. I feel like I've been manipulated into thinking that I've loved others, and have done everything I could to please someone without being fully in love with them. But with Jaden, it's like everything just came so easy. I really feel like we're twin flames or something, because we are just so alike. He's the one person that really understands me. We both deal with our fair share of mental health issues, and he's very comforting. It really means a lot. This is my first relationship where we haven't broken up already. I've never been with anyone for [nine] months strong, ever. When you know, you know."
On how Jaden has helped her get to the place she is today: "I get this weird feeling with Jaden that I've never had with any human being, not even my mom, where it's like I love him with my whole heart. I would do anything to make it work. He has shown me so much. Honestly, I owe it to him, because I would be in a really dark place now without him. I wouldn't have come out with my EP, I wouldn't have been on this whole journey with myself to get better, because it's like now I want to, I want to do better for the both of us, because I have to love myself in order to love him properly."
Nessa also dished on writing her latest single "Dying on the Inside," how she hopes her new song speaks to young people and more. Check out her full feature on Seventeen.com!
In case you missed it, both Nessa and Jaden will be performing at this upcoming festival…
Like Just Jared Jr. on FB