Wed, 09 February 2022 at 8:44 pm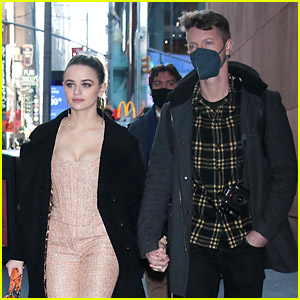 Joey King just completed a whirlwind trip to New York City to promote her upcoming movie The In Between and she had someone special by her side!
The 22-year-old actress was joined by longtime boyfriend Steven Piet while visiting several talk shows on Tuesday (February 8) in New York City.
Joey was seen leaving the studio for The Drew Barrymore Show and heading to Entertainment Tonight's studio for another interview.
"I'm in love with @drewbarrymore and I don't care who knows it. Tomorrow we are teaching you how to make my family's famous Kugel and laughing our butts off while doing it. Airing at 9am EST and 2pm PST but check your local listings just to make sure 😉," Joey wrote on her Instagram. The appearance airs on Thursday (February 10)!
For those who don't know, Joey and Steven met while making The Act together and they just celebrated their third anniversary as a couple. He was a director on two episodes.
FYI: At Drew Barrymore, Joey is wearing a Giuseppe DiMorabito look, Giuseppe Zanotti sandals, Misho Designs colored rings, Melinda Maria purple stone rings, and an Altaire bag. For ET, she is wearing a Dolce & Gabbana floral print baby doll dress, Hanut Singh earrings, an Ellie Vail body chain, a 51 E John red ring, and a Ralph Masri ring. She's wearing a Dolce & Gabanna coat in the outdoors photos.
Click through the gallery for 15+ photos of Joey King in New York City…
Like Just Jared Jr. on FB