Mon, 14 March 2022 at 5:24 pm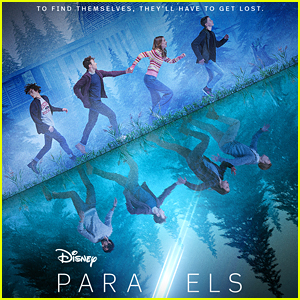 Disney+ is getting to release a brand new French series Parallels!
Ahead of it's premiere on the streamer, the trailer has debuted online, teasing the sci-fi show.
While it is a French original series, Parallels will have a Disney+ worldwide release.
Watch the trailer and learn more inside…
Here's a synopsis: Parallels tells the story of four friends – Bilal, Romane, Samuel and Victor – whose lives are turned upside down when a mysterious event scatters the group into different timelines. The four teenagers will do all they can to understand what has happened and try to get back to the carefree innocence of their former lives.
Starring in the show are Thomas Chomel, Omar Mebrouk, Jules Houplain, Jade Pedri, Naidra Ayadi, Guillaume Labbé, Gil Alma, Elise Diamant, Dimitri Storoge, Agnès Miguras, Maxime Bergeron, Victoria Eber and Timoté Rigault.
All six episodes of Parallels will premiere on Disney+ worldwide on March 23rd. Check out the trailer below!
"We wanted to tell a fantastic story about teenagers, at an age when you leave innocence and the bonds of friendship are unfailing," series creator and co-producer Quoc Dang Tran said in a statement. "The special effects and the spectacular elements were less important to us than the emotions and the intimacy – we were perfectly heard by the Disney teams who accompanied us throughout the project with enthusiasm."
"Parallels, a suspenseful sci-fi adventure series with a touch of comedy, will be one of the first French productions to air on Disney+, in France and in all other Disney+ markets. The sci-fi genre is relatively uncommon in French series, so this new production will be an interesting addition to the shows that are currently available on the service," Pauline Dauvin, VP, Programming, Production and Acquisitions, The Walt Disney Company France, shared.
If you didn't know, Disney+ just released it's first ever French original Weekend Getaway last week. Check it out!
Like Just Jared Jr. on FB