Wed, 06 April 2022 at 3:06 pm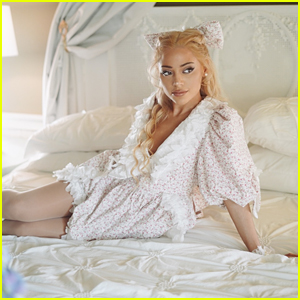 Gabi DeMartino's brand new music video for her latest single "Broken Morning" was just released on Wednesday (April 6)!
The entertainer debuted the song just a couple of weeks ago, and now fans have the new visual, which also features her fiancé Collin Vogt.
"I wrote this song mid-breakdown, and it ultimately brought me peace. In that moment I was not only trying rationalize to myself how it's just a bad morning and not a bad life, but that I can get through today just like I've gotten through other days," Gabi shared about the track. "Sometimes we get stuck in routines that leave us unable to address our thoughts, emotions, or simply grieve. Suppressing emotions to keep life going and feeling normal ultimately after the loss of my beloved 15 year old yorkie, Lily, lead me to write this song; It was truly a broken morning for me."
Check out the video and more inside…
"I had to overcome lots this year, mentally, and this unexpected unfortunate moment in my life quite literally broke me in ways I've never felt before. I didn't know how to continue my everyday routine, work, and responsibilities knowing i had to suppress these feelings to keep the day going," she continued. "I pulled over on my way home from grabbing tea as 10 different work chats had become active, along with some personal ones. I put my phone on airplane mode and let myself feel the pain and articulate my thoughts into lyrics on my notes app. This is how we got 'Broken Morning.'"
Gabi's new collection with Shein was actually inspired by the fairytale aesthetic of the music video!
Like Just Jared Jr. on FB