Wed, 25 May 2022 at 3:21 pm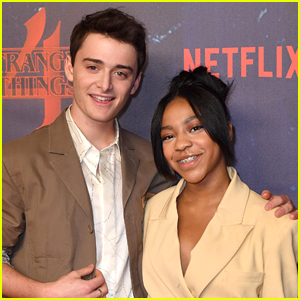 Noah Schnapp and Priah Ferguson bring Stranger Things to France!
The young co-stars were in attendance at a screening of the first episode of season four, held during the Stranger Things Festival at Cirque Bouglione on Tuesday (May 24) in Paris.
In a recent interview, Noah opened up about the last day of filming the upcoming new season with his bestie Millie Bobby Brown.
Find out what he said inside…
"We're in that denial phase right now, where we're not choosing to accept it. We're the ones that you can't really talk about it around," Millie told Variety.
"That was even like on our last day of shooting on Season 4. I remember, I was going up to Millie, and I was like, 'Are you crying? Are you gonna cry? Are you crying or upset?'" Noah added. "And she's like, 'No, no, we're not talking about it yet. There's still seven more hours. It's not over yet.'"
"And as soon as it was 4 a.m. and they said, 'That's a wrap,' Noah and I were like [miming fake sobbing with Schnapp], like those cartoons with tears coming out of their eyes," Millie said. "So we are choosing not to speak of it. Ask other cast members who are ready to accept it."
ICYMI: Check out this new trailer for Stranger Things season four, ahead of it's premiere THIS Friday (May 27).
Like Just Jared Jr. on FB