Fri, 27 May 2022 at 1:17 am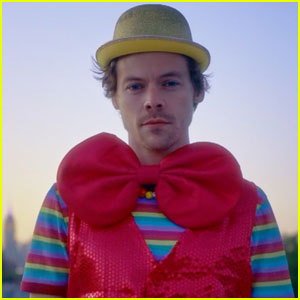 Harry Styles is giving some fans the surprise of a lifetime!
On Thursday (May 26), the 28-year-old singer appeared in a segment on The Late Late Show where he and host James Corden decided to go on a wild journey to film the music video for Harry's new song "Daylight."
Click inside to watch!
In the segment, Harry and James are given the task of creating the music video in just three hours with a $300 budget.
Harry and James then hit the streets of Brooklyn looking for the perfect – and free – location to film the video.
The two start ringing the doorbells of random people's apartments hoping that someone will let them film the music video inside.
"I thought this would be easier Harry, I've got to be honest — I thought your face would open a lot of doors," James says to Harry after a lot of rejections.
While pretending to be pizza deliverymen, Harry and James eventually get the stamp of approval to film inside three girls' apartment.
With the help of some neon lights, party decorations, a bathroom, and James in a green-screen suit, Harry is finally able to put together the music video for "Daylight."
"Daylight" is featured on Harry's new album Harry's House, which you can listen to here.
Like Just Jared Jr. on FB